Petitioners urging presidential bid by Pence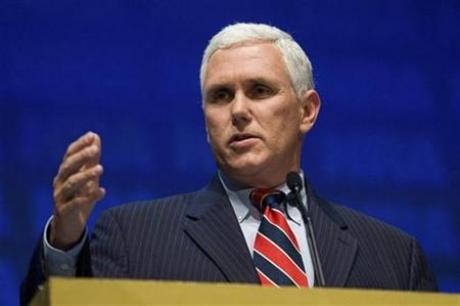 By Philip Elliott-Associated Press
An independent campaign to draw Rep. Mike Pence, Indiana Republican, into the 2012 presidential race is under way, with a veteran of the Reagan White House launching a petition drive on Monday urging him to enter the primary contests.
Ralph Benko, a deputy counsel to Ronald Reagan, announced the America's President Committee to encourage a Pence-for-president bid. Former Rep. Jim Ryun, Kansas Republican, also is helping the campaign to collect signatures.
"Mike Pence extraordinarily exemplifies the optimistic, pro-growth, pro-job creation Reagan–Kemp wing of the GOP," Mr. Benko said, referring to the late Rep. Jack Kemp, New York Republican, best-known as an advocate of supply-side economics. "Mike Pence is the best choice to lead us into a new era of peace and prosperity."
Mr. Pence stepped down from his post in the House Republican leadership. He has considered a White House run or perhaps a campaign for governor. One of his party's strongest advocates for conservative policies, Mr. Pence is among the GOP's most outspoken critics of President Obama.
"We've been trying to listen first to Hoosiers and then to other voices around the country about where they think we might best serve in the years ahead" and "we'll be making a decision before the end of this month," Mr. Pence said.