Policy, Backstory Put Jindal on List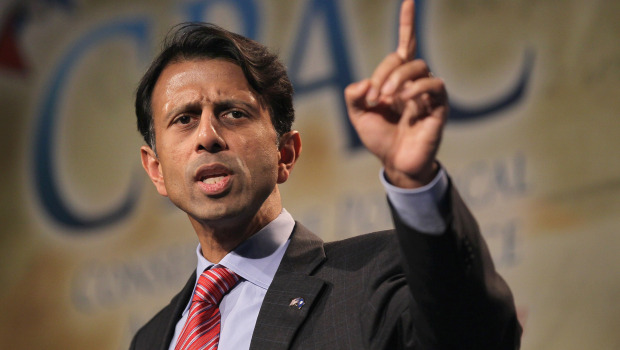 By SARA MURRAY, The Wall Street Journal
He has the kind of gubernatorial experience Mitt Romney admires and the "American dream" narrative the Republican presidential candidate lacks.
When Louisiana Gov. Bobby Jindal appears alongside Mr. Romney at a Baton Rouge fundraiser Monday, it will come as the rumor mill is churning about long-shot vice-presidential picks. Add Mr. Jindal to the list.
The second-term governor has won plaudits for his smooth handling of crises such as 2008's Hurricane Gustav and the 2010 Gulf oil spill. And the former assistant secretary for the U.S. Department of Health and Human Services is praised by conservatives for his policies on such key issues as health care and education.
But Mr. Jindal's background couldn't be more different from Mr. Romney's. The former Massachusetts governor, born into affluence and raised in tony Bloomfield Hills, Mich., now finds his campaign sidelined by questions about his wealth and whether he isn't being transparent enough about his finances.
Mr. Jindal, 41 years old, was born in Baton Rouge to Indian immigrants who came to the U.S. to pursue advanced education and better their career prospects.
His father, an engineer with no American contacts, sought employment by flipping through the phone book.
"So he sat down at the kitchen table in early 1971 and opened up the yellow pages. Starting with the A's, he made cold calls to local business in his heavily accented English, eventually landing a job offer at a railroad," Mr. Jindal wrote in his book, "Leadership and Crisis." "That was America's promise—and its challenge: Nothing was impossible if you were willing to work hard."
"For all of the talk about how much Gov. Romney loves America, the truth is he really doesn't have that 'American dream' story to tell the public," said Ben Domenech, who has known Mr. Jindal for about a decade and is a research fellow at the Heartland Institute, a conservative think tank. Add in his experience and "what you would get in Jindal is someone who seems fully prepared from day one," Mr. Domenech said.
Mr. Jindal wouldn't discuss vice-presidential speculation last week, telling reporters: "I do have the job that I want." But in a sign he has been in touch with the Romney campaign, he added, "We're not commenting at all about any of the VP process….We're referring all that to the Romney campaign at their request." Romney camp declined to comment on whether Mr. Jindal is under consideration.
Colleagues describe Mr. Jindal, who became the nation's first Indian-American governor in 2008 after two terms in the U.S. House, as wonky yet approachable, the kind of guy who is at ease debating the finer points of health-care policy or chatting up a Gulf Coast fisherman.
His office trumpets how he championed the largest income-tax cut in the state's history and expanded access to charter schools. Mr. Romney's education plans, laid out earlier this year, borrow heavily from Mr. Jindal's initiatives.
Former Minnesota Gov. Tim Pawlenty, widely seen as another vice presidential possibility, sang Mr. Jindal's praises as the two stumped for Mr. Romney in Pittsburgh early this month. "He'd be a great vice president, by the way," Mr. Pawlenty, speaking of the Louisiana governor, told NBC News.
To read more, visit:Â http://online.wsj.com/article/SB10001424052702303612804577529033908930986.html