Pope Goes Green: Vatican To Host Major 'Climate Change' Summit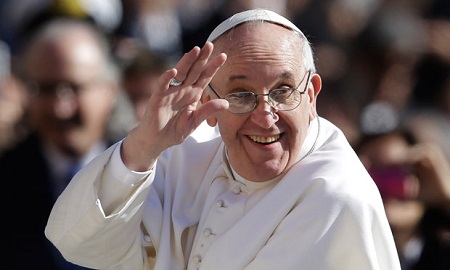 The Vatican announced Tuesday that it will host a major conference on climate change on April 28, featuring some of the world's leading climate scientists and an opening address by U.N. Secretary-General Ban Ki-moon. The conference, Protect the Earth, Dignify Humanity: The Moral Dimensions of Climate Change and Sustainable Development, will also feature Jeffrey Sachs, a prominent American economist and director of the Earth Institute at Columbia University.
Pope Francis, an outspoken advocate on environmental issues, will host a summit on climate change on April 28. giulio napolitano / Shutterstock.com
The summit hopes to "help build a global movement across all religions for sustainable development and climate change throughout 2015 and beyond," and to highlight "the intrinsic connection between respect for the environment and respect for people—especially the poor, the excluded, victims of human trafficking and modern slavery, children and future generations," says the Vatican.
The one-day summit will also include participants from major world religions and aims to "elevate the debate on the moral dimensions of protecting the environment in advance of the papal encyclical," the Vatican says. The Pope's much-anticipated encyclical on the environment is scheduled for release this summer. Cardinal Peter Turkson of Ghana, a top Vatican official who is leading the drafting process of Francis' encyclical on the environment, will also speak at the conference.