President Obama Meets With the Dalai Lama at the White House as China Objects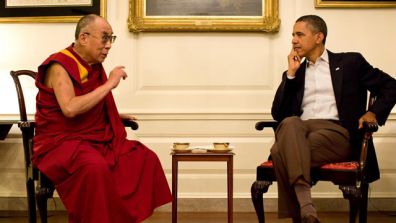 Associated Press
WASHINGTON –  President Barack Obama held a White House meeting Saturday with the Dalai Lama, a fellow Nobel Peace laureate, hours after China called on the U.S. to rescind an invitation that could sour relations with Beijing.
The Tibetan spiritual leader has been in Washington for an 11-day Buddhist ritual. Thousands of expatriate Tibetans joined a 76th birthday celebration Wednesday for the Dalai Lama, who's just relinquished leadership of Tibet's government-in-exile.
The White House said that during the 45-minute private session in the Map Room, Obama "underscored the importance of the protection of human rights of Tibetans in China." In a statement issued after the meeting, the White House also said Obama reiterated his support for the preservation of Tibet's religious, cultural and linguistic traditions.
Obama restated U.S. policy that it does not support Tibetan independence, a goal that the Dalai Lama said he also does not seek.
In a nod to the criticism from Beijing, Obama also stressed to the Dalai Lama that he considers a cooperative relationship between the United States and China to be important, according to the White House statement.
In remarks after the meeting forwarded by Kate Saunders from the International Campaign for Tibet, the Dalai Lama said of his visit with Obama: "Firstly we developed a very close sort of feeling for each other." He said Obama expressed his concern over basic human values, such as human rights and religious freedoms. "So naturally he shows genuine concern about suffering in Tibet and other places."
A Chinese crackdown led the Dalai Lama to flee into exile in India in 1959. China says he's welcome to return if he drops his separatist activities, accepts Tibet as an inalienable part of China and recognizes Taiwan as a province of China.
Read more:Â http://www.foxnews.com/politics/2011/07/16/president-obama-meets-with-dalai-lama-at-white-house-as-china-complains/#ixzz1SPsv7lBL