Rallies against Islamic law draw counter-protests across US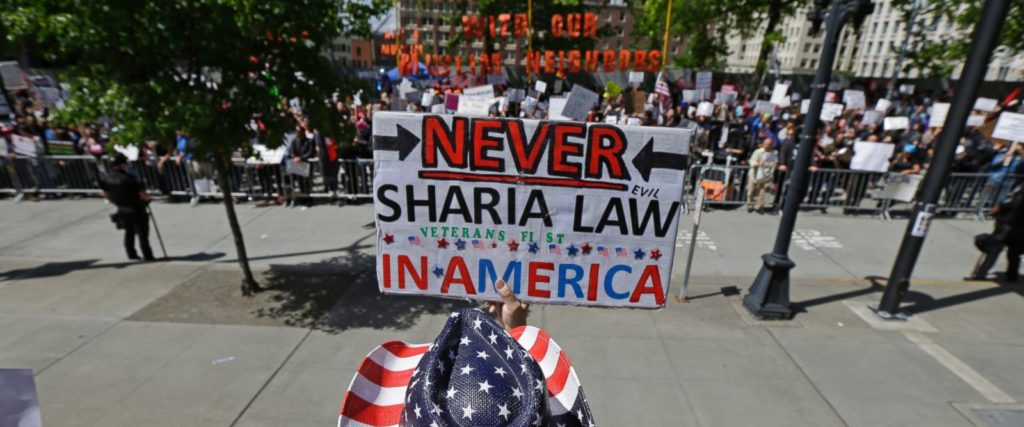 SEATTLE – Small but disorderly protests around the country Saturday raised the worry that extremist interpretations of Islamic law somehow might swell across the U.S. and infect American democracy, but many of the rallies drew even more over-the-top counter-protests by demonstrators who called such fears an unfounded distortion of Islam.
Hundreds of counter-protesters marched through downtown Seattle, banging drums, cymbals and cowbells behind a large sign saying "Seattle stands with our Muslim neighbors." Participants chanted "No hate, no fear, Muslims are welcome here" on their way to City Hall, where dozens of anti-Shariah protesters rallied.
A phalanx of bicycle police officers kept the sides separated during the sanctioned events, but authorities said a large fight broke out after the gatherings concluded. Seattle police used tear gas to disperse rowdy demonstrators and made several arrests following an anti-Shariah rally and a much larger counter-protest. The department said it was still reviewing how many people were arrested and what charges they might face, but at least some were expected to be booked for investigation of assault.
In front of the Trump building in downtown Chicago, about 30 people demonstrated against Islamic law and in favor of President Donald Trump, shouting slogans and holding signs that read "Ban Sharia" and "Sharia abuses women." About twice as many counter-protesters marshaled across the street.
A similar scene played out in a park near a New York courthouse, where counter-protesters sounded air-horns and banged pots and pans in an effort to silence an anti-Shariah rally. In St. Paul, Minnesota, state troopers arrested about seven people when scuffles broke out at the close of competing demonstrations at the state Capitol.