Rand Paul wants government hands off his toilet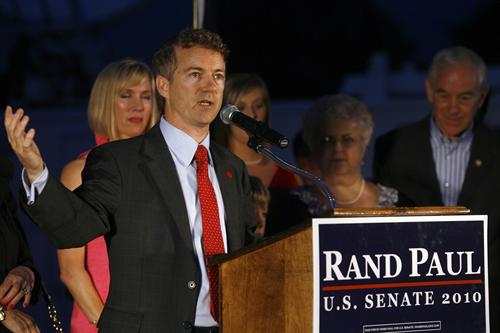 By DARIUS DIXON, Politico
If the federal government can support abortion rights, why can't it also support light bulb choice, Sen. Rand Paul asked Thursday morning.
And don't even get him started about his toilet.
The Kentucky Republican began making the link between the personal, the political and the plumbing-related when he asked Kathleen Hogan, the DOE deputy assistant secretary on energy efficiency, "I was wondering if you're pro-choice?"
"I'm pro-choice of bulbs," Hogan responded.
"Actually, that's the point," Paul said, during an appliance efficiency hearing at the Senate Energy and Natural Resources Committee.
"The point is that most members of your administration probably would be frank and characterize themselves — and upfront — as being pro-choice for abortion," he said, "but you're really anti-choice on every other consumer item."
Paul continued on a string of attacks against federal regulations and labeled the lighting efficiency standards set by a 2007 energy law as just another government overreach.
"Light bulbs, refrigerators, toilets, you name it. You can't go around your house without being told what to buy," Paul said. "You restrict my purchases. You don't care about my choices. You don't care about the consumer.
"Frankly, my toilets don't work in my house, and I blame you and people like you who want to tell me what I can install in my house," Paul said. He added, "I find it insulting.
"I'm all for energy conservation but I wish you'd come here to extol me, to cajole me, to encourage," he said. "But you come instead with fines [and] threats of jail." (For the record, at no point during the hearing did Hogan threaten to arrest Paul.)
To read more, visit:Â http://www.politico.com/news/stories/0311/51053.html#ixzz1GIJtE7Nr