Reid hits Romney over taxes, '47%' comments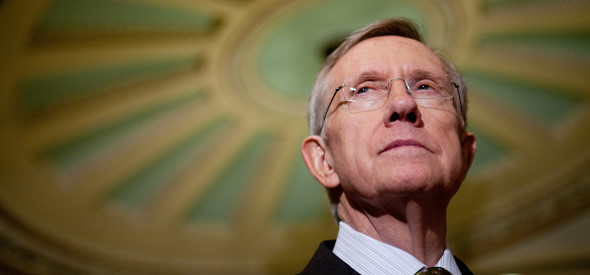 (CNN) – The leading Democrat in the Senate continued his attacks on Republican nominee Mitt Romney Sunday in an op-ed that questions the former Massachusetts governor's character and pivots back to criticism over the GOP candidate's taxes.
Senate Majority Leader Harry Reid wrote the piece for the Las Vegas Sun, hitting Romney on a variety of recent missteps as well as the tax-related accusations that have dogged the Romney campaign since early in the Republican primaries.
"We learn the most about someone's character not from what he does when he knows others are watching but from what he does when he thinks they aren't," wrote Reid, leading into criticism of Romney for his most recent gaffe – the "47%" comments.
Romney made the controversial comments while speaking to a group of wealthy donors at a private fund-raiser in May. The candidate told the donors that nearly half of Americans would not vote for him because they are dependent on government.
Immediately following reports of the comments, Reid hurried to the Senate floor to claim Romney "only wants to be president of half of the United States."
In the op-ed, the Nevada senator checked off a list of recent hurdles for the Romney campaign.
"First, his sweeping, closed-door condemnation of President Barack Obama's supporters revealed the disdain he has for half the population he hopes to serve," wrote Reid.
"Then, the limited tax returns Romney selectively released confirmed that he's willing to share information about the time he's been in the public eye and running for president, but not the time he was running the corporation he touts as his sole qualifying credential for the highest office in the land."
Reid's attack on Romney's character, specifically his refusal to release more years of tax returns, recalls a contentious back and forth that Reid set off in late July. He claimed an unnamed investor with Bain Capital – the private equity firm that Romney founded before entering the political realm – told him Romney had not paid taxes for a number of years.
Reid's claim prompted Romney to fire back, telling the majority leader to "put up or shut up" and demanding he reveal his anonymous source. But conservatives' insistence that Reid reveal the name only fueled the controversy, as the Nevada senator continued hitting Romney over his refusal to shed more light on his finances.