Rep. Weiner admits tweeting lewd photo of himself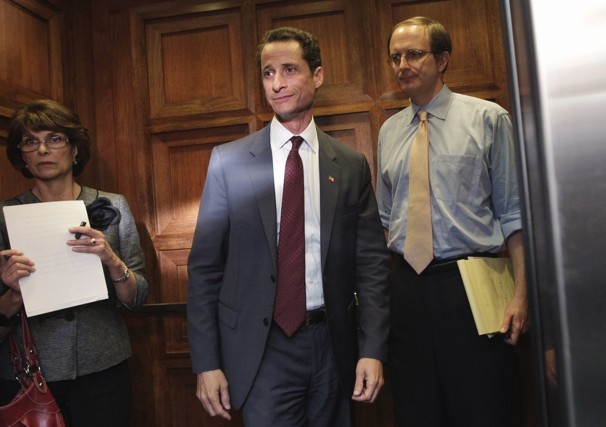 In an extraordinary reversal at an extraordinary news conference, Rep. Anthony Weiner of New York admitted Monday afternoon that he had repeatedly lied to his constituents and the country in denying that he had sent a lewd picture of himself to a college-age woman on Twitter. In a tearful admission, he said that he had in fact sent multiple inappropriate messages to multiple women but that he had done nothing illegal and would not resign.
"The picture was of me, and I sent it," said Weiner (D), who called it "a very dumb thing to do," "a hugely regrettable mistake" and "destructive."
"I am deeply ashamed," said Weiner, his jaw clenched.
Soon after Weiner finished speaking, House Minority Leader Nancy Pelosi (D-Calif.), who he said had urged him to tell the whole truth, called on the House ethics committee to conduct an investigation into his case.
For Weiner, a seven-term congressman who was seen as a leading candidate to become the next mayor of New York, the collapse is all the more stunning in light of the heights he had reached in his party and as a spokesman for its liberal wing. In the aftermath of his mea culpa, Republican leaders mostly stood back and watched the public self-immolation of one of their sharpest antagonists.
His closest allies limited themselves to offering moral support.
"I am deeply pained and saddened by today's news," Weiner's one-time mentor, Sen. Charles E. Schumer (D-N.Y.), said in a statement. "By fully explaining himself, apologizing to all he hurt and taking full responsibility for his wrongful actions, Anthony did the right thing. He remains a talented and committed public servant, and I pray he and his family can get through these difficult times."
Speaking in a Midtown Manhattan Sheraton, Weiner, 46, known for his swagger and barbed quips, choked up as he expressed regret to his wife of less than a year, Huma Abedin, a close aide of Hillary Rodham Clinton's. He then apologized to the media that had transformed the Brooklyn firebrand into a national star.
That was in contrast to the bombast that Weiner demonstrated last week, when he sought — to disastrous effect — to shame reporters for asking questions about a photo sent from his Twitter account. He repeatedly said his account had been "hacked," but he failed to answer basic questions — such as whether the photo was of him and why he hadn't called on authorities to investigate the matter. All that defiance appeared drained from the lanky congressman Monday as he stood for more than a half an hour taking fire from reporters, who asked whether he had used any government computers to send the messages, whether he knew any of the recipients to be underage, whether he had engaged in phone sex, whether his wife would stand by him and whether he thought he could be reelected.
To read more, visit:Â http://www.washingtonpost.com/lifestyle/style/rep-weiner-admits-tweeting-lewd-photo-of-himself/2011/06/06/AG7o1dKH_story.html