Republican Candidates Clash in Pivotal Iowa Debate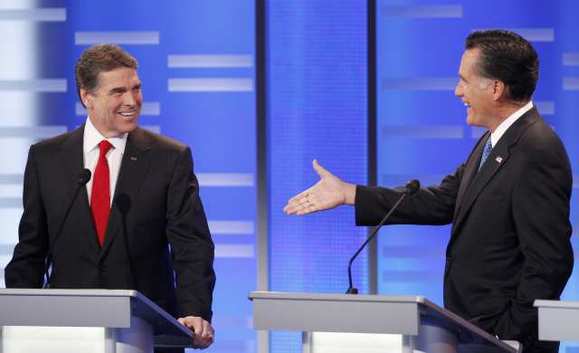 By SHUSHANNAH WALSHE, DEVIN DWYER and MICHAEL FALCONE, ABCNews.com
Less than three weeks before the Iowa caucuses, six Republican presidential candidates faced off last night in a high-stakes presidential debate dominated by the question of who's the most consistent conservative.
The debate, sponsored by ABC News, Yahoo! News, WOI-TV, The Des Moines Register and the Iowa Republican Party at Drake University in Des Moines, comes 24 days before the first GOP voters will reveal their preference for presidential nominee on Jan. 3.
Former Massachusetts Gov. Mitt Romney wasted little time going after frontrunner and former House Speaker Newt Gingrich, accusing him of being a "career politician" with unusual — at times liberal — ideas.
"Speaker Gingrich and I have a lot of places where we disagree," Romney said. "We can start with his idea…to have a lunar colony that would mine minerals from the moon…He said that he would like to eliminate in some cases the child labor laws so that kids could clean schools… His plan in capital gains, to remove capital gains for people at the very highest level of income …"
To read more, visit: Â http://abcnews.go.com/Politics/iowa-debate-republican-candidates-clash-amidst-newt-gingrich/story?id=15129739#.TuQobLIk6so