Republican race shifts to Obama's home state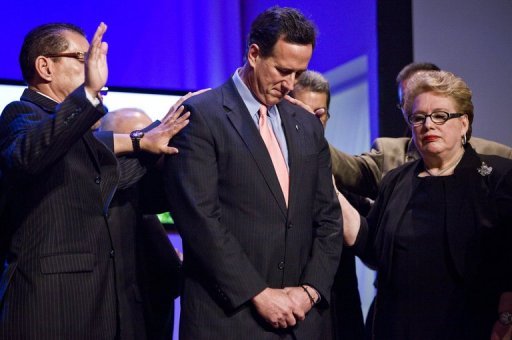 By Mira Oberman (AFP)
CHICAGO — Republican White House hopefuls set their sights on President Barack Obama's home state of Illinois and Missouri Saturday, in a key step in their pitched battle to be the party's standard-bearer.
Polls showed former senator Rick Santorum within striking range of frontrunner Mitt Romney, who has a commanding lead in all-important delegates but has been weakened by his failure to clinch the nomination.
The fierce GOP campaign was being waged as Obama flew home to Chicago for a fundraiser as his party, sensing a tight election, is upping its effort to gain traction with voters.
In some counties of Missouri, Republican were holding their caucuses Saturday to elect convention delegates. But the outcome of the meetings was not expected to be immediately clear because under local party rules, the delegates were not bound to support specific presidential contenders.
Obama took a short swipe at his rivals after screening a laudatory 17-minute documentary on his presidency that was launched Thursday.
He welcomed them to the "land of Lincoln" and said he hoped some of the first Republican president's ideals — an understanding of the importance of the federal government and a belief that we are "one people and we rise or fall together" — would "rub off on them."
"You may not feel confident that will happen," Obama told supporters gathered at Chicago's historic Palmer House hotel.
"You may be watching some of this avalanche of attack ads and think this is not appealing to the better angels of our nature. But hope springs eternal."
Santorum took direct aim at Obama in a speech to a suburban Chicago high school that showed a very different understanding of the role of government.
"You have a president of the United States who does not believe America was a great country until the government took money from you and redistributed it back to others," Santorum said.
"America is great because it was founded great."
Santorum castigated Obama for believing that it is the role of elites in government to "better organize society" and promoting a culture of dependence and entitlement rather than to allow people the freedom and opportunity to succeed or fail on their own terms.
"There will be inequality, but the key to America is do you have the opportunity to go from not having much to having great amounts of wealth. That is still the case in America."
To read more, visit:Â http://www.google.com/hostednews/afp/article/ALeqM5iMBFC9CFH1JHwr926Lt3fG9u43BQ?docId=CNG.697f089e0b767f4cfb209463a0122c94.1f1