Republicans in three-way battle in Deep South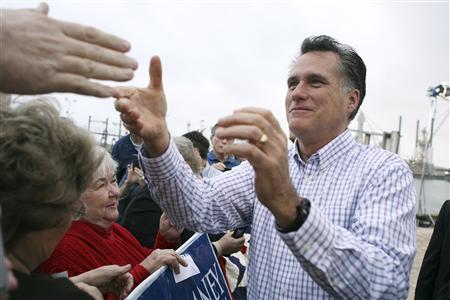 (Reuters) – Republicans Rick Santorum, Newt Gingrich and Mitt Romney battled on Monday for conservative support in Mississippi and Alabama ahead of presidential primaries that polls showed have turned into tense three-way ties.
The stakes are high for all of the contenders in Tuesday's Deep South contests, with Gingrich fighting to keep his struggling campaign alive and Santorum hoping for a knockout blow that would consolidate conservative opposition to front-runner Mitt Romney.
The southern primaries, originally seen as a fight between conservatives Romney and Santorum, gained a new edge with an unexpected strong showing by Romney in polls.
For Romney, a win in either state would be a landmark breakthrough that would signal his ability to capture conservative support in the party's Deep South strongholds and put him on a path to the nomination.
Public Policy Polling surveys showed a three-way jumble in each state. In Alabama, the three candidates were within 2 points of each other, inside the margin of error. In Mississippi, Gingrich led Romney by 33 percent to 31 percent, with Santorum at 27 percent.
"I do need your help," Romney told supporters who turned out in a rainstorm to hear him in Mobile, Alabama. "This could be an election that comes down to a very small margin."
Romney has opened a big lead over his rivals in collecting delegates to the nominating convention but has not been able to capture the hearts of conservatives who distrust his moderate stances as governor of liberal Massachusetts.
Even in Illinois, a Democratic-leaning state, Romney has more work to do. A Chicago Tribune/WGN-TV poll found him slightly ahead of Santorum, 35 percent to 31 percent.
His campaign argues that Romney's rivals cannot catch him in the chase for delegates, but Santorum raised the possibility that no one would manage to win the 1,144 delegates to clinch the Republican nomination before the party's convention in late August.
To read more, visit:Â http://www.reuters.com/article/2012/03/12/us-usa-campaign-idUSTRE8230GE20120312