Republicans Warn That Hillary Could Be Charged With A Crime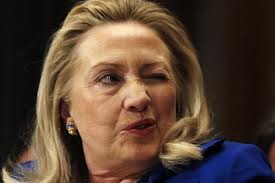 Top House Republicans are warning Hillary Clinton they won't hesitate to have her charged with criminal wrongdoing if it turns out she didn't provide the State Department with copies of every email she sent in relation to the Benghazi assault.
A mouthpiece for Clinton has said that the former secretary of state completely complied with the requirement but Republicans have continued to question the veracity of that statement.
A House committee tasked with investigating the 2012 terrorist attack in Libya issued a new round of subpoenas last week for messages sent through Clinton's personal account, which was recently revealed to be the only email address she used while at the State Department, mixing business correspondence with pleasure, all at a domain outside the immediate scope of the government.
The controversy has bled into a separate review of the Clinton Foundation's fundraising practices during Hillary Clinton's tenure in Barack Obama's administration after the Washington Post discovered that her family's charity accepted money from foreign governments that were also lobbying the State Department.