Republicans withdraw from talks on debt ceiling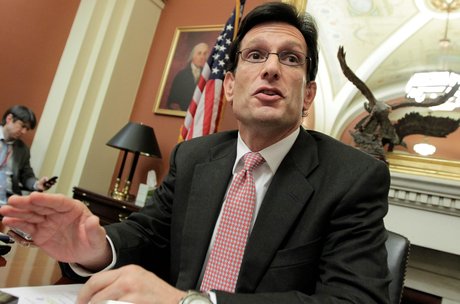 By Carl Hulse, The New York Times
WASHINGTON — Congressional Republicans on Thursday abandoned budget talks aimed at clearing the way for a federal debt limit increase, leaving the outcome in doubt as they vowed not to give in to a Democratic push for new tax revenues as part of any compromise.
The breakdown was set off by the surprise decision of Rep. Eric Cantor of Virginia, the House majority leader and one of two Republicans participating in sessions led by Vice President Joe Biden, to quit the negotiations.
This week's talks were considered to be crucial as the Aug. 2 deadline for an increase in federal borrowing authority nears.
Cantor had previously expressed optimism that the sessions could produce a deal. But he announced that he would not be attending Thursday's scheduled meeting because Democrats continued to press for part of the more than $2 trillion savings target to come from moves like phasing out tax breaks.
"As it stands, the Democrats continue to insist that any deal must include tax increases," Cantor said in a statement. "There is not support in the House for a tax increase, and I don't believe now is the time to raise taxes in light of our current economic situation. Regardless of the progress that has been made, the tax issue must be resolved before discussions can continue."
Sen. Jon Kyl of Arizona, the No. 2 Senate Republican and the party's other representative in the talks, said later Thursday that he also would skip the next
negotiating session as he and Sen. Mitch McConnell of Kentucky, the Republican leader, turned up the pressure on President Barack Obama to play a larger role in the push for a debt limit deal.
"President Obama needs to decide between his goal of higher taxes or a bipartisan plan to address our deficit," McConnell and Kyl said in a joint statement. "He can't have both. But we need to hear from him."
The Republican maneuvering threw the talks into disarray in a week when those taking part had hoped an accelerated schedule of meetings could produce a breakthrough that would persuade members of both parties to support a debt ceiling increase in the coming weeks.
As events unfolded Thursday, a White House spokesman, Jay Carney, said the negotiations led by the vice president were now "in abeyance," and he tried to play down the development by suggesting that the White House had expected that at some point the president would take charge of the talks. When that would happen was not clear, and Carney did not elaborate.
Sen. Harry Reid, the Nevada Democrat and Senate majority leader, also said he expected that the talks would resume at a higher level, though he provided no timetable.
To read more, visit:Â http://www.mercurynews.com/politics-government/ci_18341792?nclick_check=1