Right rushes to hit McConnell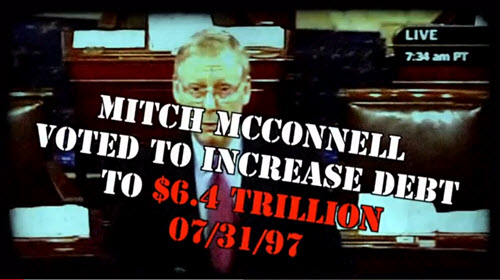 Two conservative groups are rushing to the rescue of Sen. Mitch McConnell's (R-Ky.) primary challenger, Matt Bevin.
The groups are hitting McConnell with two new ads, one on the radio and one online, that touch on a range of issues toxic to the right.
The radio ad, from the Senate Conservatives Fund, criticizes McConnell's procedural vote to move a debt ceiling hike forward, and his work with Vice President Joe Biden on the "fiscal cliff" deal that included a tax hike on higher income households.
The Madison Project's nearly two-minute online ad juxtaposes clips of McConnell talking about fiscal responsibility and government spending on the Senate floor and at press conferences with on-screen text outlining his votes to raise the debt limit.
Both groups have endorsed Bevin.
The support from the right comes as Bevin has endured a rough couple of weeks in the race.
Questions over a report praising the financial bailout that he signed while president of an investment fund have dogged Bevin for most of February, bringing him negative coverage on conservative news sites and fueling attacks from McConnell's campaign that Bevin has exhibited at best hypocrisy and at worst a "history of deceptions."