RNC chairman Reince Priebus calls Harry Reid a 'dirty liar'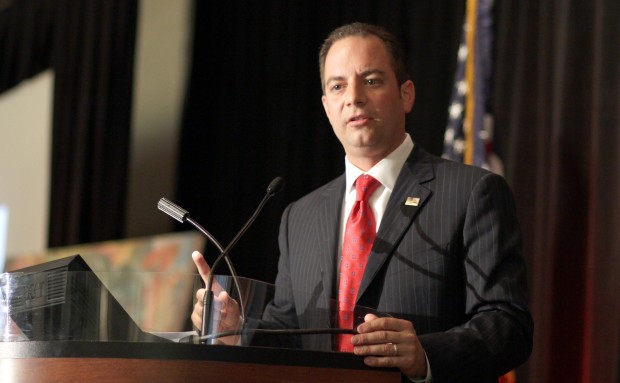 By Aamer Madhani, USA TODAY
Surrogates for President Obama aren't repudiating Sen. Harry Reid's unsubstantiated charge that Mitt Romney may not have paid taxes for the past decade, while a backer for Romney called the Senate majority leader a "dirty liar."
Asked on the Sunday talk shows about the Senate majority leader's claim that Romney may have not paid taxes for the last decade, Obama surrogates turned the issue back on the Massachusetts governor for refusing to release more than his last two years of tax returns.
Republican National Committee Chairman Reince Priebus retorted that Reid is a "dirty liar" in a separate interview on ABC's This Week for accusing Romney of not paying taxes.
"As far as Harry Reid is concerned … I'm not going to respond to a dirty liar who hasn't filed a single page of tax returns himself, complains about people with money but lives in the Ritz Carlton here (in Washington) down the street," Priebus said.
Team Obama stuck by Reid.
"I don't know who Harry was talking to. The point here though, Chris, is the Romney campaign and Governor Romney can resolve this in 10 seconds — they can release the tax returns," said Obama campaign adviser David Axelrod onFox News Sunday. "They gave 23 years of tax returns (to the) John McCain campaign, they've given one year of tax returns to the American people. It was Governor Romney's father who pioneered the release of tax returns when he ran for president because he said one year can be misleading. Why don't they just put this to rest? Why is he hiding?"
Meanwhile, Democratic National Committee Chairwoman Debbie Wasserman Schultz said on ABC's This Week that Romney could clear up this issue "lickety split" by releasing years of tax returns as every other major presidential candidate has done.
As for Reid making the charge — which he said he heard from anonymous former business associate of Romney — Wasserman Schultz offered this defense of Reid: "Everybody is responsible for saying the things they have information on. Harry Reid said he has a credible source. I know this question is not just asked by Harry Reid. It's been generated by countless reporters, by voters who want to know what he is hiding."
To read more, visit:Â http://content.usatoday.com/communities/theoval/post/2012/08/obama-surrogates-back-harry-reid-on-romney-tax-charge/1#.UB-2RrSud8E