Robert Byrd, longtime Democratic senator, dies at 92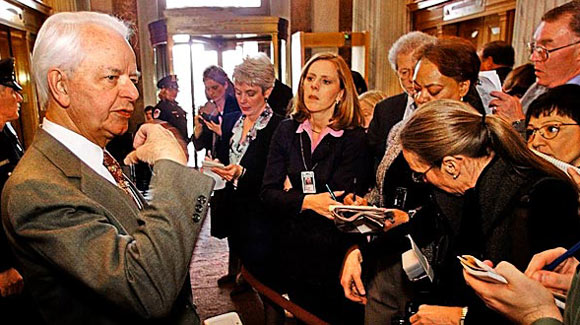 By Johanna Neuman, Los Angeles Times
Reporting from Washington —Robert Carlyle Byrd, the West Virginia Democrat who was often called this generation's conscience of the Senate for his devotion to the system of constitutional checks and balances and the prerogatives of power, died Monday. He was 92.
Byrd, who served longer than any member of Congress in U.S. history and cast more congressional votes than anyone since taking office in January 1959, died peacefully at about 3 a.m. at Inova Hospital in Fairfax, Va, a spokesman for the family told the Associated Press.
West Virginia Gov. Joe Manchin III, a Democrat, will appoint someone to finish Byrd's term, which ends in 2013.
Byrd's death marks another milestone in the demise of a postwar generation of "Old Bulls" who ran Congress for decades. Many of them — such as Pete V. Domenici (R-N.M.) and John Warner (R-Va.) — have retired. Ted Stevens (R- Alaska) lost his 2008 bid for reelection in the face of corruption charges. Edward M. Kennedy (D-Mass.) died last year.
In recent years, the wheelchair-bound Byrd was not as strong a presence in the Senate as he once was, making rare speaking appearances. Byrd showed up at a Senate hearing in May and read a statement cautioning colleagues against severely limiting use of the filibuster, a device he used to hold the Senate floor for 14 hours and 13 minutes in an unsuccessful filibuster of the 1964 Civil Rights Act.
Renowned for carrying a copy of the U.S. Constitution in his left shirt pocket to brandish at colleagues and constituents, Byrd had a deep commitment to history. A master of Senate rules, he was by turns protective and disruptive of procedure, slowing debate with long, florid orations that invoked Greek philosophers, Roman generals and the Founding Fathers. But he could also pierce debate with a pointed comment.
As president pro tem of the Senate, he was third in line for succession to the presidency. The post of president pro tem now goes to Sen. Daniel K. Inouye, a Democrat from Hawaii.
To read more, visit: http://www.latimes.com/news/nationworld/washingtondc/la-me-byrd-20100628,0,2531885.story