Romney calls for 'real change' in economic address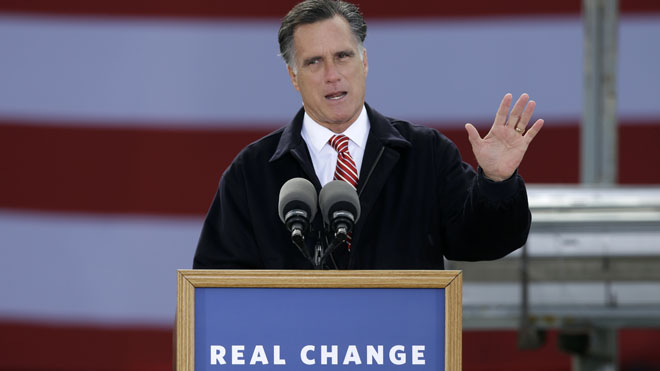 FoxNews
AMES, Iowa –  Framing the election as a choice between fiscal responsibility and more of the same, Mitt Romney began his closing argument to voters Friday — calling for "real change, big change" in what was billed as a major economic address.
Speaking at a construction supply firm in the battleground state of Iowa, the Republican presidential nominee laid the blame for slow growth and falling wages squarely on President Obama and used the president's 2008 campaign slogan against him.
"We need real change, big change," Romney told the crowd of over 3,000 who braved the chilly temperatures, before promising a different course. "Our campaign is about that kind of change — confronting the problems that politicians have avoided for over a decade, revitalizing our competitive economy, modernizing education, restoring our founding principles."
Romney offered no new policy details in Friday's speech. The address was instead a summation of recent comments while on the stump, something the Democrats seized on, saying in a statement Romney's policies are "not the change we need."
The president also tried to return focus to his policy proposals earlier this week with a 20-page booklet laying out his second-term jobs plan. Both candidates are campaigning furiously in fewer than a dozen battleground states, with just 11 days to go until Election Day and polls showing them separated by a thin margin in many of those contests.
Pointing to the millions still unemployed or struggling to make ends meet, and to a political system entrenched in partisan gridlock, Romney contrasted Obama's rhetoric four years ago with the reality facing Americans today.
"President Obama promised to bring us together, but at every turn, he has sought to divide and demonize," Romney said before listing areas where the president allegedly has fallen short — the debt, jobs and entitlements — and outlining his five-point plan to fix them.
Romney also acknowledged the president did not get the country into the financial crisis and its aftermath, but slammed him for not doing enough to help.
To read more, visit:Â http://www.foxnews.com/politics/2012/10/26/romney-calls-for-big-change-in-economic-address/#ixzz2ASgDemnk