Romney focusing on military and foreign policy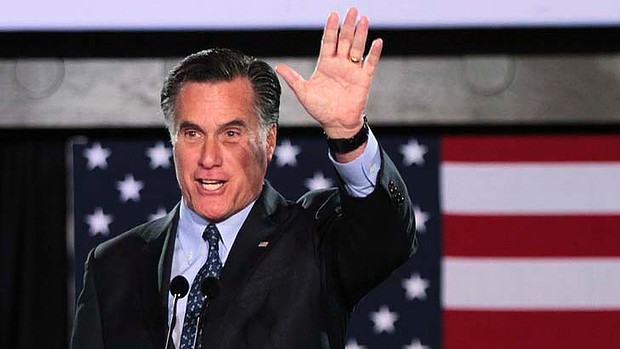 By THOMAS BEAUMONT – Associated Press
RENO, Nev. — Republican presidential candidate Mitt Romney is moving away from his preferred issue — the economy — and into military and foreign policy, a realm usually viewed as the home turf of the incumbent.
Romney's address Tuesday to the national convention of the Veterans of Foreign Wars comes on the eve of an overseas visit to key allies. Aides say the former Massachusetts governor will outline to veterans his view that President Barack Obama has relinquished U.S. leadership around the world.
Obama sought to raise the stakes for Romney's speech with remarks Monday at the VFW convention, casting himself as a steady commander in chief tested by two wars and the successful raid on Osama bin Laden's compound. The president was continuing a Western campaign swing with appearances Tuesday in Oregon and Washington.
While raising money in California on Monday, Romney offered a preview of his latest critique of Obama, telling about 400 supporters at a hotel in Irvine that "the consequence of American weakness is seen around us in the world."
However, Obama touted his record as one of promises kept: End the war in Iraq, wind down the conflict in Afghanistan and go after the al-Qaida leader behind the 9/11 attacks.
Without naming Romney, Obama indirectly suggested his opponent would have kept troops in Iraq indefinitely and criticized him for opposing the president's 2014 timeline for withdrawal from Afghanistan.
"That's not a plan for America's security," Obama told the veterans group.
Although Obama suggested that Romney was an inexperienced critic working to polish his own credentials, Romney appeared ready to turn from his chief argument that Obama is a failed steward of the economy and criticize the president on foreign and national security policy.
Romney noted Sunday that key ally Australia's foreign minister, Bob Carr, had told him during a private meeting that the United States was "in decline." However, Carr on Monday clarified his remarks, saying he wasn't criticizing the U.S. when he spoke of a nation "in decline." Kim Beazley, Australia's ambassador to the United States, said Carr's remarks "represent a considered assessment of the U.S. economy and an antidote to talk of U.S. declinism."
Romney also suggested Monday that the Obama administration had not been aggressive enough in deterring Iran's nuclear ambitions or in trying to quell the violence in Syria. Romney said he agreed with Obama's call for Syrian President Bashar Assad's departure but said Obama had not shown proper leadership to force it.
To read more, visit:Â http://www.google.com/hostednews/ap/article/ALeqM5hWlTept57YqMe6aTHUCIysdgaPog?docId=4ac079953b6f46539fde0295f0cf1871