Romney Handily Wins Illinois Primary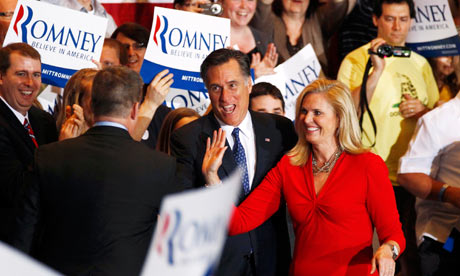 Mitt Romney scored a decisive win in the Illinois Republican presidential primary Tuesday, helping solidify his status as the likely nominee against top challenger Rick Santorum.
Illinois was a coveted prize with 69 delegates, 54 being chosen in Tuesday's primary. The candidates arrived in the state at a pivotal moment, with Mr. Romney extending his lead in the delegate count and Mr. Santorum trying to build off last week's wins in the South.
With more than 60% of the vote counted, Mr. Romney was leading Mr. Santorum by 48% to 34%.
In Schaumburg, Ill., Mr. Romney told supporters that it was time to send a one-word message to the Obama administration: "Enough. We've had enough," he said. "We know our future's brighter than these troubled times."
As he celebrated a win in Illinois, Mr. Romney made no mention of his Republican rivals but instead looked ahead to a general election match-up with President Barack Obama. He said the president was crushing the American dream and touted his private-sector experience while questioning Mr. Obama's background.
"For 25 years, I lived and breathed business and the economy and jobs," Mr. Romney said. "You can't learn that teaching constitutional law at the University of Chicago. You can't even learn that as a community organizer."
Mr. Santorum, holding an election-night party in Gettysburg, Pa., said he would fight on and told supporters that he was kicking off his campaign for the April 24 Pennsylvania primary. "We've got five weeks to a big win and a big delegate sweep in Pennsylvania," Mr. Santorum said.
To read more, visit:Â http://online.wsj.com/article/SB10001424052702304636404577293552364558564.html