Romney now seeking to introduce himself to voters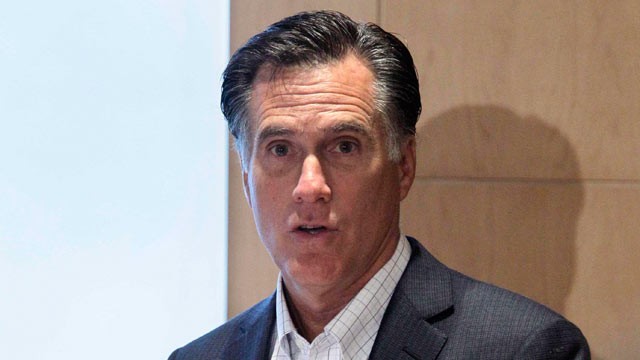 By BETH FOUHY
NEW YORK (AP) — Mitt Romney has been on the national political stage for nearly a decade — through two presidential bids, countless campaign events and millions spent on TV ads. But the likely Republican presidential nominee still isn't well-known to most voters.
So now he's trying to fix that.
With less than 100 days until the Nov. 6 election, Romney is starting to introduce himself to them in earnest — through a combination of carefully selected media appearances and biographical ads — before President Barack Obama's efforts to define him in a negative light cripple his candidacy.
"I got the chance to start my own business … I went off to have the chance at running the Olympics in Salt Lake City in 2002 … The real experience was in Massachusetts," the former governor says in a new television commercial released Tuesday that features him on the campaign trail, in factories and with his wife, Ann, by his side. "I want to use those experiences to help Americans have a better future."
Until now, Romney has emphasized his record at the private equity firm Bain Capital, giving Obama and other Democrats the chance to portray him in their ads as an out-of-touch corporate raider and job killer. The new ad is an effort to deflect that barrage by letting him round out that biography by touching aspects of it that he hasn't stressed in the past.
The ad marked the start of a new phase for the Republican presidential candidate as he looks to move from a seven-day, three-nation trip abroad and into a period where the media glare will shine even brighter as he prepares to announce his vice presidential running mate in the run-up to the GOP convention where he'll accept the party's presidential nomination.
In what may be his most extensive series of national broadcast interviews this campaign, Romney and his wife spent much of the trip answering questions from TV anchors on everything from her part ownership of a horse competing in the Olympics to whether they were each other's true love (The answer? Yes.)
In one appearance, Romney touched on the challenge he faces in introducing himself to voters as the clock ticks down on the campaign and he runs against an incumbent who is universally recognized and generally liked by most voters.
"You know, I've been on The Tonight Show and Letterman and The View and I do some of those things to get better known," Romney said when NBC anchor Brian Williams asked if he was a "hidden man." Romney said he expected voters to tune in more after Labor Day. "Most folks won't really get to see me until the debates and will get a better sense of the character that I have," he said.
It was an unusual acknowledgement for a major party's presidential standard-bearer this late in a campaign, but one borne out in recent polling.
A CBS News/New York Times poll conducted in mid-July found that 31 percent of registered voters were either undecided or hadn't heard enough  about Romney when asked if they had a favorable or unfavorable opinion of him.
To read more, visit:Â http://www.google.com/hostednews/ap/article/ALeqM5jRmXXP5bco22w8mDy2scTG9COt9Q?docId=7c39efc0c81148bda603ad5b536a1ae2