Romney, Pawlenty Prep for White House Bids in Wooing Activists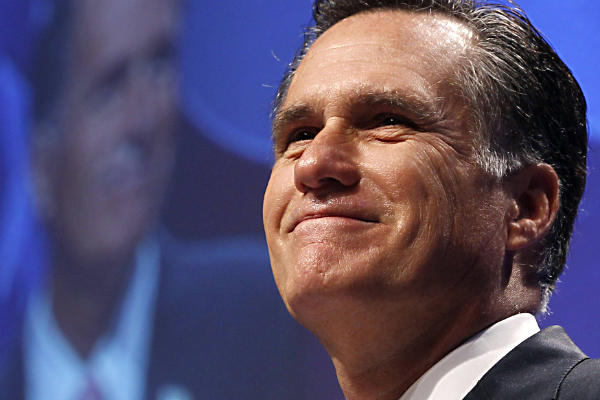 By Lisa Lerer and Heidi Przybyla, Bloomberg News
Feb. 11 (Bloomberg) — Former governors Tim Pawlenty and Mitt Romney, two of the more active unofficial Republican presidential candidates, wooed activists in Washington today with attacks on President Barack Obama.
"Now, I'm not one who questions the existence of the president's birth certificate," Pawlenty, of Minnesota, said at the Conservative Political Action Conference. "But when you listen to his policies, don't you at least wonder what planet he's from?"
Romney, of Massachusetts, wondered how Obama "went from change you can believe in, to can you believe this change?"
Pawlenty's critique of Obama included a call for repeal of the health-care overhaul that the president pushed into law last year. Romney, who during his 2003-2007 gubernatorial term spearheaded enactment of a state law comparable to the national one, didn't mention that issue.
Unlike many of the other roughly dozen prospective presidential contenders addressing the conference — attended by more than 10,000 people — Pawlenty, 50, and Romney, 63, are actively competing for donors and building staff in the states featuring early nominating races next year.
In their conference appearances, the two former governors were seeking to win over skeptical Tea Party activists whose energy was key to Republican gains in November's midterm elections. Many of these activists prefer party insurgents such as Sarah Palin, the 2008 Republican vice presidential nominee who didn't attend the conference, and Representative Ron Paul of Texas, who also spoke at the gathering today.
'Thin Base'
"Romney has a base here, but it's a thin base," said David Keene, former president of the American Conservative Union, which organizes the conference. "He's trying to augment that."
Keene also judged that Pawlenty was making some inroads. "If there were a most-improved candidate, it would be Pawlenty," he said.
Other potential Republican White House contenders scheduled to speak later today or tomorrow, when the conference wraps up, are Indiana Governor Mitch Daniels and Mississippi Governor Haley Barbour. Prospective candidate who spoke yesterday included Representative Michele Bachmann of Minnesota and former House Speaker Newt Gingrich of Georgia and former Senator Rick Santorum of Pennsylvania.
To read more, visit: http://www.businessweek.com/news/2011-02-11/romney-pawlenty-prep-for-white-house-bids-in-wooing-activists.html