Romney Reframes Donor Remarks to Refocus on Economic Issues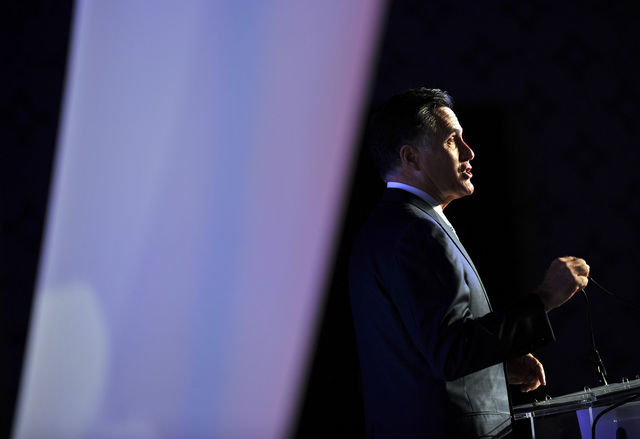 By Julie Hirschfeld Davis and John McCormick , Bloomberg
Republican presidential candidate Mitt Romney is seeking to pivot from campaign distractions that threaten to undermine his message during what was supposed to be the confidence-building phase of his bid.
With only seven weeks before the election and just two before he faces President Barack Obama for the first of three debates, Romney spent yesterday working to contain the political damage from the publication of secretly videotaped remarks to donors in which he dismissed 47 percent of Americans as government-dependent "victims."
Democrats and Obama's campaign expressed outrage, and some Republican candidates distanced themselves from remarks that party strategists said risked alienating the very voters — non- college educated whites, Latinos, senior citizens and veterans among them — who Romney, 65, needs to defeat the president.
"It plays into some tried-and-true themes the Obama campaign has been working hard to tag Romney with," said Republican strategist Terry Holt, a former aide to President George W. Bush. "The real challenge is how you overcome a mistake that lets the Obama people get back on message against you."
Time's Short
Romney is running out of time, Holt said, to present himself as a "credible alternative" to Obama, "and in the last few weeks, there have been a lot of distractions — it's just been a difficult time for the challenger to keep his message under control."
Obama took advantage of Romney's troubles. There are "not a lot of people out there who think they are victims," the president said in an interview on CBS's "Late Show with David Letterman." There's "nothing wrong" with giving Americans "a helping hand," he said, adding that Americans don't want a president who is "writing off a big chunk of the country."
The latest flap comes at a critical moment for Romney, who has been buffeted by news reports about turmoil within his campaign, bipartisan criticism of his comments after the death of the U.S. ambassador in Libya, and new polls showing him trailing Obama nationally and in swing-state polls.
A Sept. 12-16 NBC News/Wall Street Journal survey released yesterday showed Obama leading Romney, 50 percent to 45 percent, among likely voters. A Washington Post poll released yesterday gave Obama an eight-percentage-point lead in Virginia, a battleground state.
Adding Context
Romney defended his comments in an interview yesterday on Fox News. He said he didn't mean to write off any group of voters, and sought to place his statement in the broader context of his campaign message.
"We believe in free people and free enterprise; not redistribution," Romney said. He twice mentioned a video publicized by the Drudge Report yesterday in which Obama is heard in a 1998 talk advocating government actions that facilitate "redistribution — because I actually believe in redistribution, at least at a certain level to make sure everybody's got a shot."
To read more, visit:Â http://www.businessweek.com/news/2012-09-18/romney-reframes-donor-remarks-while-refocusing-on-economy