Romney says he expects to win Iowa's caucuses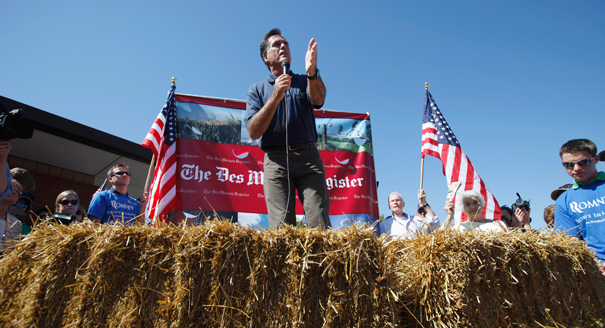 By Kasie Hunt, Associated Press
MARION, Iowa—A confident Mitt Romney said Monday that he's going to win Iowa and become the Republican nominee for president.
"We're going to win this thing with all of our passion and strength and do everything we can to get this campaign on the right track," Romney told a raucous crowd gathered here on the last day of campaigning before Tuesday's caucus, "to go across the nation to get the ballots I need, the votes I need so I can become the nominee. That's what we're going to get."
When Iowa supporters stand up to speak for Romney at caucuses Tuesday night, they'll offer the same pitch the former Massachusetts governor is making: that he is the Republican candidate most capable of beating President Barack Obama.
Romney was focusing on areas of Iowa he won in 2008 in four rallies across the state Monday. At two earlier events with more muted crowds, he didn't talk about winning. But here, as people whooped and yelled throughout his speech, he was clearly upbeat as he criticized Democrats instead of his GOP rivals.
"They'll poison the very spirit of America and keep us from being one nation under God," he said. "I want see America united. I watch a president who's become a great divider, the great complainer, the great excuse giver, the great blamer."
Aides worked behind the scenes to ensure that his backers from his failed 2008 campaign would turn out Tuesday night to argue that the stakes next fall are enormous and that only Romney is capable of toppling the incumbent Democrat.
People like Carol Dowhey, 51, who plans to speak for Romney at a precinct in Atlantic, was among those who received a one-page speech for caucus night. "It's no wonder the White House has focused all of their attacks exclusively on Mitt Romney," the text says. "They know, like I know, that he is the toughest opponent they could possibly face."