Romney says Obama won election with promise of 'gifts' for key groups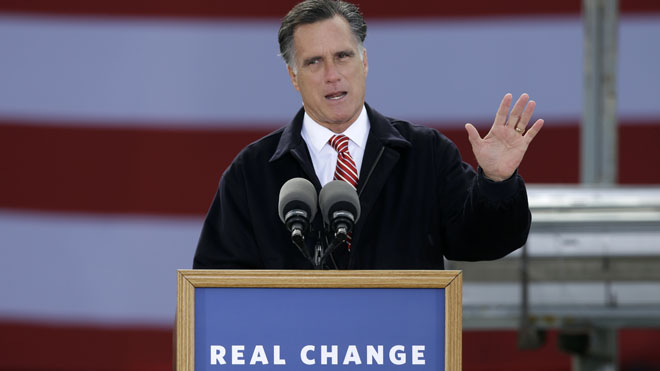 FoxNews.com
Mitt Romney, in some of his first reported remarks since his concession speech, claimed Wednesday he lost the presidential election because President Obama provided "gifts" to key groups like black, Hispanic and young voters.
The Republican presidential nominee did not acknowledge any major missteps in his campaign in a phone call with top donors Wednesday, attributing his loss to Obama's focus on distinct groups rather than the country as a whole.
"The president's campaign, if you will, focused on giving targeted groups a big gift," Romney said, citing immigration proposals aimed at Hispanics and free contraception coverage that appealed to young women. "He made a big effort on small things."
Romney said that in contrast, his campaign was more focused on "big issues for the whole country."
Romney also blamed his problems as a candidate on the attacks against him by the Obama campaign, especially their efforts to paint him as anti-immigrant. He said his campaign, though superb, had trouble because of these attacks until he was able to come back during the debates.
Louisiana Gov. Bobby Jindal criticized Romney's comments later Wednesday, as some GOP leaders offered critiques of their party's last campaign on the first day of Republican Governors Association (RGA) meetings in Las Vegas.
Jindal, thought to be a potential 2016 candidate and the incoming RGA chairman, said he "absolutely rejects" Romney's "gifts" assertion, and said those types of notions do not represent who Republicans are as a party.
"We've got to stop dividing American voters,  go after every single vote," Jindal said,  "Show that our policies affect every voter out there."
Jindal also said though the party needs to modernize, he emphasized that it can reach an increasingly diverse electorate without becoming "a 2nd Democratic party." He said he believes the U.S. is still a center-right nation.
Read more:Â http://www.foxnews.com/politics/2012/11/15/romney-obama-won-votes-due-to-promise-gifts/#ixzz2CNn6iB6V