Romney says to lay out comprehensive energy plan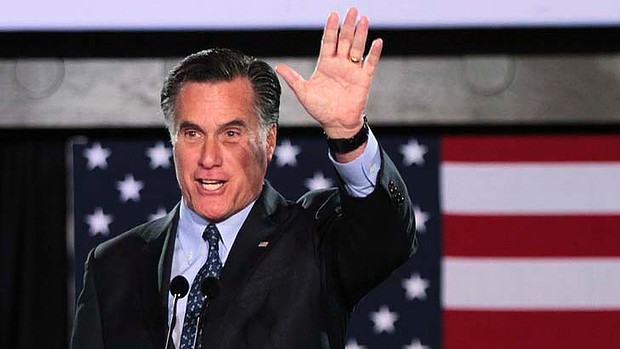 By Steve Holland
MIDLAND, Texas, Aug 21 (Reuters) – Republican U.S. presidential candidate Mitt Romney tapped oil executives for nearly $7 million on Tuesday and told them he will lay out a comprehensive energy proposal this week aimed at increasing U.S. energy production and creating jobs.
On a day of fund-raising in Texas, Romney got whoops of approval from contributors in the West Texas oil town of Midland when he vowed to take advantage of "oil, gas, nuclear and renewables" if elected president on Nov. 6.
Midland is where former President George W. Bush grew up, and Romney's motorcade passed a road sign pointing toward the "George W. Bush Childhood Home." Romney went to the Petroleum Club to address his contributors and was introduced by former Bush Commerce Secretary Don Evans.
If Romney is inaugurated president next January, said Evans, other nations will look at the United States and say, "We can once again trust America."
Romney's energy speech will seek to return his presidential campaign to the more familiar ground of how to boost the sluggish U.S. economy after the race was dominated for more than a week by a Medicare proposal from his vice presidential running mate, congressman Paul Ryan.
The former Massachusetts governor praised Ryan and could not resist a jibe at Vice President Joe Biden, who last week drew the ire of Romney by telling a crowd in former slave state Virginia that the Republican would loosen bank regulations and "put y'all back in chains."
On a day that an NBC/Wall Street Journal poll said Ryan gave no significant overall bump to the Republican ticket, Romney said of his running mate: "I can't wait to watch him debate Joe Biden. Joe Biden has been the gift that keeps on giving."
Biden and Ryan will face off in a lone vice presidential debate in October.
Romney raised more than $3 million at events in Houston and Midland for a total of close to $7 million for the day.
He unveiled his plans for an energy speech at a Houston hotel to a crowd that included energy executives such as Harold Hamm, a billionaire Oklahoma oil baron, and Exxon-Mobil CEO Rex Tillerson. He told them he wanted to seek their advice on his energy proposals that he will lay out in New Mexico on Thursday.
To read more, visit:Â http://in.reuters.com/article/2012/08/22/usa-campaign-romney-idINL2E8JLGR020120822