Romney to win Connecticut, Rhode Island, Delaware, Pennsylvania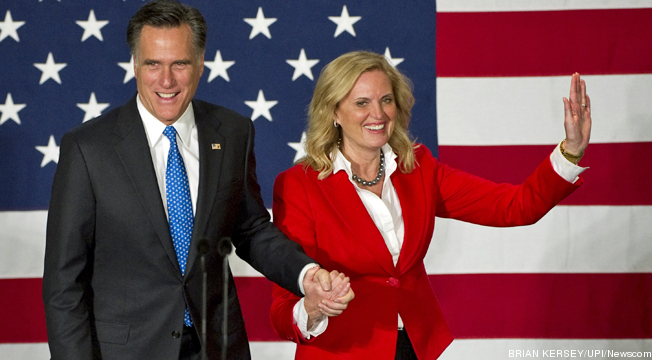 (CBS News) Mitt Romney wins the Republican presidential primaries in Connecticut, Rhode Island, Pennsylvania and Delaware, CBS News projects.
Polls in New York closed at 9 p.m. ET.
In Connecticut, with 41 percent of the expected votes in, Mitt Romney had 66 percent of the vote. Ron Paul followed him with 14 percent of the vote.
In Rhode Island, with 83 percent of the expected votes in, Romney led with 64  percent and Paul trailed him with 25 percent.
In Pennsylvania, with 14 percent in, Romney had 57 percent. Rick Santorum, who dropped out of the Republican presidential contest earlier this month, followed with 19 percent of the vote.
In Delaware, with 97 percent of the expected vote in, Romney led Gingrich 57 percent to 27 percent.
Romney could potentially add more than 200 delegates to the 692 estimated delegates he had already secured before the evening's five contests.
No matter what happens, Romney will still lack the 1,144 delegates necessary to formally clinch the Republican nomination after Tuesday — but the former Massachusetts governor is already claiming the mantle of presumptive Republican nominee. Even as he continues to put in the requisite work toward officially sealing up the Republican nomination, Romney is expected to pivot to the general election in a speech later tonight in New Hampshire.
Speaking to supporters out of New Hampshire Tuesday night, the presumptive GOP nominee focused his attention solely on President Obama, failing to mention either of this remaining Republican rivals by name,  instead casting himself as an improvement over Mr. Obama and promising "the start of a new and better chapter."
"A better America begins tonight," Romney told an enthusiastic crowd. "Tonight is the start of a new campaign to unite every American who knows in their heart that we can do better. The last few years have been the best that Barack Obama can do. But it's not the best America can do. Tonight is the beginning of the end of the disappointments of the Obama years."
Gingrich, who has only won two nominating contests, was counting on a strong performance in Delaware Tuesday to get a "bounce" that might prompt donors to take another look at his candidacy.
To read more, visit:Â http://www.cbsnews.com/8301-503544_162-57420539-503544/romney-to-win-connecticut-rhode-island-delaware-pennsylvania-cbs-news-projects/