Romney Up Big in N.H., Polls Show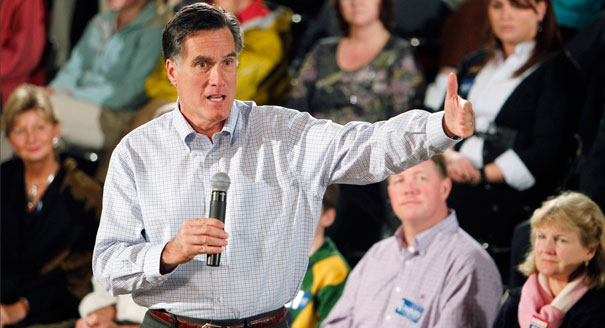 National Journal
Former Massachusetts Gov. Mitt Romney has a commanding lead in the Jan. 10 New Hampshire Republican primary, according to three new polls released Friday that show Romney could become the first nonincumbent to sweep the first two GOP nominating contests in the modern campaign calendar.
The three polls all show Romney—who currently holds a slender lead in Iowa—blowing out the competition next week in his adopted home state, while former Sen. Rick Santorum, R-Pa., has received only a modest bump following his surprising surge to a virtual tie for first place in Iowa on Tuesday. Rep. Ron Paul, R-Texas, is in second place in each of the three surveys, while former House Speaker Newt Gingrich is fading. Former Utah Gov. Jon Huntsman, who is staking his entire primary campaign on a strong performance in the Granite State, trails badly in each of the polls.
Suffolk University in Boston, which has been conducting a two-day tracking poll for Boston-based WHDH-TV since Dec. 30, released its first poll conducted entirely after the Iowa caucuses. The latest results—compiled from interviews with likely primary voters on Wednesday and Thursday—show Romney leading Paul, 40 percent to 17 percent. Santorum runs third, at 11 percent, while Gingrich is fourth, at 9 percent. Huntsman is at 8 percent, and Texas Gov. Rick Perry earns just 1 percent of the vote.
The University of New Hampshire Survey Center conducted a poll for WMUR-TV in Manchester, N.H., from Monday through Thursday. In the full poll, Romney led Paul, 44 percent to 20 percent, with Gingrich and Santorum tied at 8 percent. Huntsman is at 7 percent. But UNH also provided results for the last two days of the poll, following Iowa: Romney leads with 43 percent, followed by Paul (18 percent), Santorum (11 percent), Gingrich (9 percent), and Huntsman (7 percent).
A new NBC News/Marist poll, conducted on Wednesday and Thursday, shows Romney leading Paul, 42 percent to 22 percent. Santorum jumped to third place, with 13 percent, followed by Gingrich and Huntsman, each at 9 percent.