Romney wins Iowa; Santorum trails by just 8 votes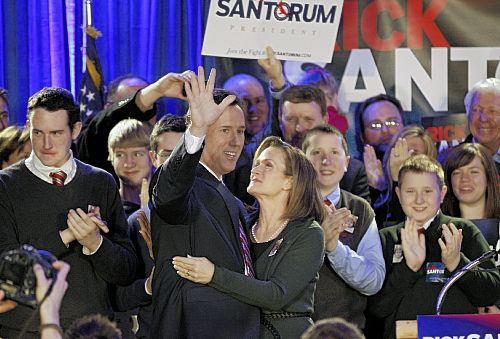 By James O'Toole, Pittsburgh Post-Gazette
JOHNSTON, Iowa — In a stunningly tense and unanticipated outcome, former Pennsylvania Sen. Rick Santorum and former Massachusetts Gov. Mitt Romney were in a dead heat until the very end, when officials announced the winner of Iowa precinct caucuses just after 2:30 a.m. today.
With all the votes tabulated, Mr. Romney finished ahead of Mr. Santorum by just eight votes.
In a measure of the historically tight balloting, during the few minutes that elapsed while Mr. Santorum delivered an emotional speech celebrating the result, Mr. Romney came from a few votes behind to take a brief lead only to fall behind again, by five votes, by the time Mr. Santorum closed. Then Mr. Romney came out the winner after the votes of a last, missing precinct were counted.
In his remarks Mr. Santorum thanked God, his wife, and the people of Iowa for a result few but the candidate himself would have predicted weeks earlier.
"Game on," Mr. Santorum said as he took the stage surrounding by his wife, Karen, family members and ecstatic staffers.
To read morr, visit: Â http://www.post-gazette.com/pg/12004/1201179-50.stm