Romney wins Wisconsin primary, adds to primary delegate lead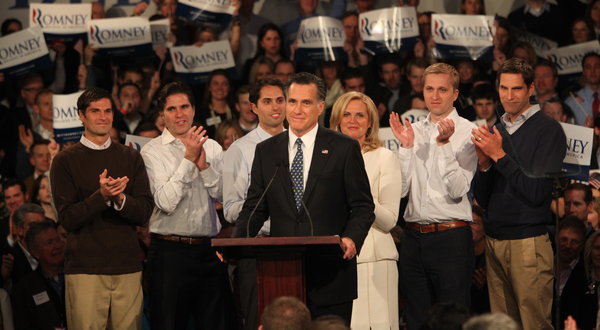 By Josh Lederman -The Hill
Mitt Romney won Wisconsin's primary Tuesday night, increasing the pressure on his rivals to exit the GOP presidential race.
The television news networks projected Romney as the winner at 9:30 p.m. ET, about 90 minutes after the polls closed.
Romney's victory in Wisconsin, coupled with two separate wins on Tuesday in less competitive contests in Maryland and the District of Columbia, was expected to push him past the halfway mark on the way to the 1,144 delegates he needs to clinch the nomination.
But the race to 1,144 could become less important in the wake of Romney's sweep on Tuesday, which came just as support from conservative leaders appeared to be coalescing around the former Massachusetts governor.
 
Democrats, too, appeared to have embraced the notion that the general election has started in earnest, with President Obama calling out Romney by name for the first time on Tuesday and airing a television ad directly targeting the former Massachusetts governor.
Exit polling suggested that Wisconsin voters remain somewhat apprehensive about Romney, but overwhelmingly believe he will be the GOP nominee. One in three Romney supporters polled said they have reservations about him, and about 6 percent said they voted for him because they didn't like their other choices. But even among Rick Santorum supporters, two out of three voters surveyed said they expected Romney would eventually win the party's nod.
Romney and Santorum both campaigned vigorously in Wisconsin, where a recall effort targeting Gov. Scott Walker (R-Wis.) eclipsed the presidential contest and left the two candidates vying to see who could be more supportive of Walker's anti-union efforts. Paul and Gingrich have both scaled back their presidential campaigns, and kept a mostly low profile in the days leading up to the Wisconsin primary.
For Santorum and his aides, who acknowledged they would likely place second in Wisconsin, attention had already turned to Pennsylvania, the former senator's home state. Pennsylvania will hold its primary on April 24 — along with four Northeastern states that are favorable to Romney. Santorum is sustaining a single-digit lead in Pennsylvania over Romney, and sorely needs a win to back up his claims to continue relevance in the race.
Santorum has said he plans to stay in the race no matter the results in Wisconsin. But already he has admitted that the calls for him to exit the race are escalating.
To read more, visit:Â http://thehill.com/homenews/campaign/219839-mitt-romney-wins-wisconsin-primary-adds-to-delegate-lead