Romney's bipartisanship vow: He and Ryan will 'reach across aisle'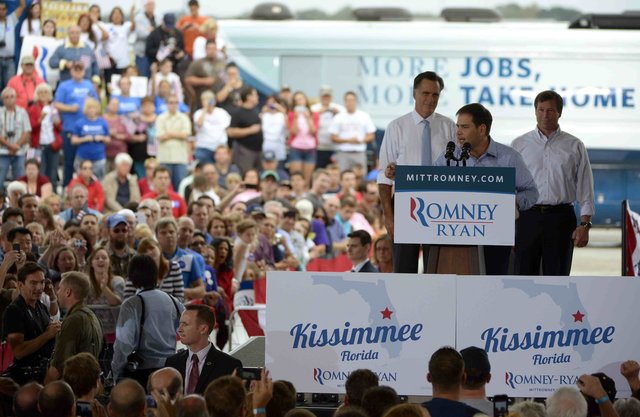 By Seth McLaughlin-The Washington Times
KISSIMMEE, Fla. — During a Saturday swing through the crucial battleground of Florida, GOP presidential nominee Mitt Romney drove home the notion that he will bring a level of bipartisanship to Washington that he says has been missing under President Obama.
Campaigning alongside Sen. Marco Rubio and Rep. Connie Mack, Mr. Romney mixed his message of bipartisanship with attacks against Mr. Obama, saying the Democrat has "shrunk" from the nation's most pressing problems and from the promises he touted on the campaign trail in 2008.
"He promised that his would be a post-partisan presidency, but we have watched him over the last four years, and he has been divisive and demonized almost any group that opposed him," Mr. Romney said, adding that he and running mate Rep. Paul Ryan are poised to "reach across the aisle" to ensure that they can simplify the tax code, reduce the regulations on business, and to repeal and replace "Obamacare."
"We have to build bridges with the other party. This is not a time for America to pull back and divide and demonize. It is a time for us in American to come together and find common ground," Mr. Romney said.
Riding some momentum out of his series of debates with Mr. Obama, the former Massachusetts governor has put a renewed focus recently on moderating his message and casting himself as more of a bipartisan figure as he looks to reach out to women and independents voters.
Mr. Romney told crowds Saturday that he worked with Democrats as governor of Massachusetts to reduce spending, cut taxes and turn a projected $3 billion budget shortfall into a $2 billion surplus.
"We could have just fought, but instead we came together and found places to work together," Mr. Romney said.
To read more, visit: Â http://www.washingtontimes.com/news/2012/oct/27/romneys-bipartisanship-vow-he-and-ryan-will-reach-/