Romney's lead hasn't convinced many of GOP's unpledged delegates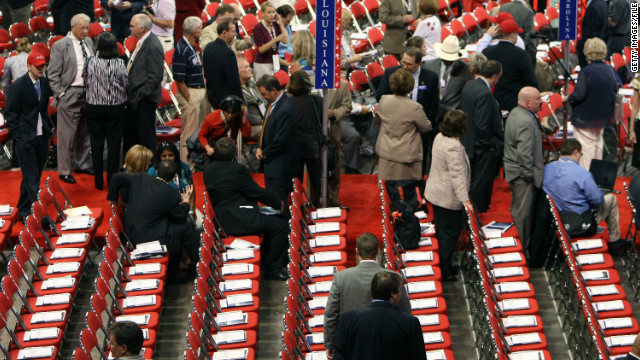 By Dan Merica and Adam Levy, CNN
Washington (CNN)Â — By all measures, Mitt Romney won convincingly in Puerto Rico earlier this month. He captured 83% of the popular vote and all 20 of the island's pledged delegates. But that's not all Romney took back to the mainland.
The day after the primary, the Romney campaign announced that Carlos Méndez, chairman of the Puerto Rico Republican Party, had jumped ship, leaving Newt Gingrich's campaign to endorse the former Massachusetts governor. The switch was a coup for Romney because many state or territory chairs — those coveted "unpledged" delegates — are holding back their support in the GOP nomination process, which is far more than symbolic.
Méndez is one of 117 unpledged Republican National Committee delegates. Each group of three includes the head of the state or territory party, the committeeman and the committeewoman. In many cases, they can vote independently of who their local constituents express as their popular preference. Each state or territory is allotted three delegate slots for these leaders, but some mandate they remain pledged in accordance with the primary results.
According to a CNN survey of the unpledged RNC delegates, only 39 of them have chosen to endorse any candidate. Thirty-four are for Romney, three for Gingrich and two for Rick Santorum. No unpledged delegates have endorsed Ron Paul.
"The most common reason that they're uncommitted now is that they're the ones running the primary," said CNN Contributor Ari Fleischer, former press secretary to President George W. Bush. "If you're the chair of Alabama — your job is to put on the primary. It makes your life easier if each of the candidates can say you are neutral and fair."
Even after privately voting in a contest, some unpledged RNC delegates chose to remain publicly uncommitted.
"If the Mississippi primary would have ended up 51% to 22% and 16%, that would have been a bit more of a statement," said Joe Nosef, chairman of the Mississippi Republican Party. "It is not like the primary results told me much about where things are at."
Santorum won a close race in Mississippi earlier this month with 35% of the vote, while Gingrich and Romney tied at 29%.
With four candidates still in the race, the likelihood of a brokered convention grows if no candidate earns the 1,144 delegates necessary to win the nomination before the first ballot. If that happens, the support of unpledged RNC delegates can be the difference between a united and brokered convention in Tampa, Florida.
"It is a possibility," said Peggy Lambert, the undecided national committeewoman from Tennessee. "I hope we don't. I hope we have a clear-cut candidate, but it is certainly possible."
To read more, visit:Â http://www.cnn.com/2012/03/26/politics/gop-unpledged-delegates/