Ron Paul goes on the attack, steps back into the spotlight at debate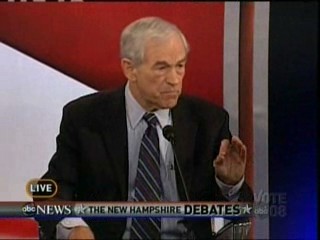 By Emily Goodin – The Hill
Ron Paul returned to the spotlight Saturday night by attacking his rivals for the Republican nomination.
The Texas congressman launched ferocious attacks against Rick Santorum, who has surged in the polls recently, and Newt Gingrich.
Those two snapped back, leading to one of the most testy exchanges in the debate, and all frontrunner Mitt Romney had to do was sit back and watch his rivals tear each other down.
Paul, who is second in New Hampshire polls, got plenty of air time to make his attacks and all of the candidates involved in the exchanges found themselves playing defense against each other.
Paul has pounded Santorum since the former senator has surged in the polls, and he kept it up during Saturday night's debate.
Paul, who has called Santorum a "liberal" because of his record on voting for government spending, was asked if he stood by an ad from his campaign calling Santorum "corrupt."
To read more, visit: Â http://thehill.com/blogs/ballot-box/gop-presidential-primary/202917-ron-paul-goes-on-the-attack-steps-back-into-spotlight?page=2#comments