Ryan brings fundraising prowess to Romney's presidential bid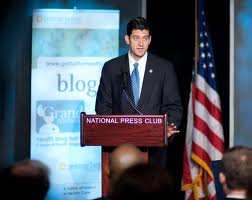 (Reuters) – Paul Ryan, the Wisconsin congressman who has breathed new life into Republican Mitt Romney's bid for the White House as his vice presidential running mate, also brings to the ticket his status as a fundraising heavyweight.
During his 14-year career in Congress, Ryan has been propelled by sizeable donations from insurance companies and other players in the financial sector, including notable hedge fund names.
Ryan's campaign has so far reported raising $4.3 million this election cycle, with $5.4 million in cash on hand as of July 25, making it one of the top fundraising congressional campaigns this year.
His leadership Prosperity PAC, or political action committee, has collected another $3.7 million this cycle.
The biggest contributors behind Ryan this cycle are family members and employees of Elliott Management, a Wall Street hedge fund run by prominent Republican donor Paul Singer, who has helped raise millions for the party, including for Romney.
Now, as Romney's vice presidential pick, Ryan is already energizing donors, especially those on the Wall Street scene.
Anthony Scaramucci, managing partner at alternative investment firm SkyBridge Capital LLC, said people in the hedge fund community with whom he has spoken are "ecstatic" about the Ryan choice.
"Of everybody in the Republican leadership, there's nobody that understands pro-growth economic policies and how massive deficit spending can actually lead to a drag on job creation better than Paul Ryan," said Scaramucci.
Scaramucci, who is one of the eight co-chairs of Romney's National Finance Committee, gave $5,000 last year to Ryan's Prosperity PAC.
Romney spokeswoman Andrea Saul said the campaign raised $7.4 million through 101,000 online donations in the 72 hours after naming Ryan as Romney's vice presidential running mate.
It is hard to judge whether that was a boost from the previous pace. In July, Romney raised an average of just under $3.3 million a day for his campaign and the Republican party – adding up to about $9.8 million in 72 hours. But that amount includes both smaller donations submitted online and other, generally bigger checks submitted in person or by mail.
BIG NAMES
Ryan, a 42-year-old Washington insider who has spent practically his entire career on Capitol Hill, has in recent years garnered national attention for his dramatic proposals to slash the federal budget.
To read more, visit:Â http://www.reuters.com/article/2012/08/14/us-usa-campaign-money-ryan-idUSBRE87D04P20120814