Ryan promises he and Romney 'will take responsibility'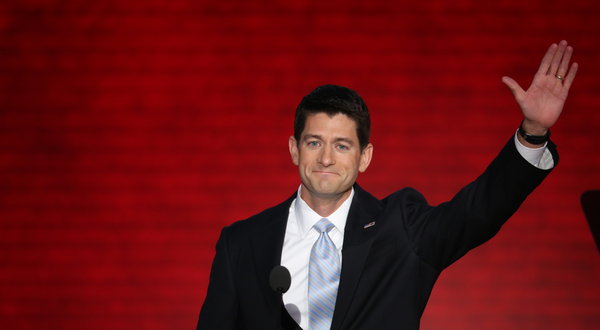 By John Whitesides and Matt Spetalnick, Reuters
TAMPA, FLA.–Republican vice presidential contender Paul Ryan promised on Wednesday that he and running mate Mitt Romney would lead America out of the economic doldrums by making tough choices that would generate jobs and strengthen the middle class.
Ryan, a Wisconsin congressman, will accept his assignment as Romney's No. 2 at the Republican convention with the biggest speech of his political career – one designed to fire up conservatives while reaching out to independents still uncertain about the Republican team.
"We will not duck the tough issues – we will lead. We will not spend four years blaming others – we will take responsibility," Ryan will say later on Wednesday, according to excerpts of his speech released by Romney's campaign.
Ryan will join many of his fellow Republicans in criticizing President Barack Obama, promising he and Romney will repeal Obama's healthcare overhaul if elected.
"Obamacare comes to more than 2,000 pages of rules, mandates, taxes, fees and fines that have no place in a free country," he said in the excerpts.
Republicans hope to use the convention in Tampa, Florida, to show a softer side of Romney, who has had trouble connecting with voters, while focusing on his plans for an economic turnaround and criticizing Obama for lingering high unemployment and exploding deficits.
A Reuters/Ipsos online survey on Wednesday showed Romney already gaining a boost from the gathering. In the four-day rolling poll, Romney and Obama were deadlocked among likely voters at 43 percent each. That was an improvement for Romney from Obama's two-point lead on Tuesday and four-point lead on Monday.
"The convention is being seen and heard," said Julia Clark of Ipsos. "We can credibly say the slight change in the numbers can be attributed to the convention."
Romney's selection of Ryan, chairman of the House of Representatives Budget Committee, energized the party's core conservative supporters. They love his plan to rein in government spending and shift portions of Medicare, the popular health program for seniors, to a voucher system.
To read more, visit:Â http://www.csmonitor.com/USA/Latest-News-Wires/2012/0829/Ryan-promises-he-and-Romney-will-take-responsibility