Ryan's star rising with Obama rebuttal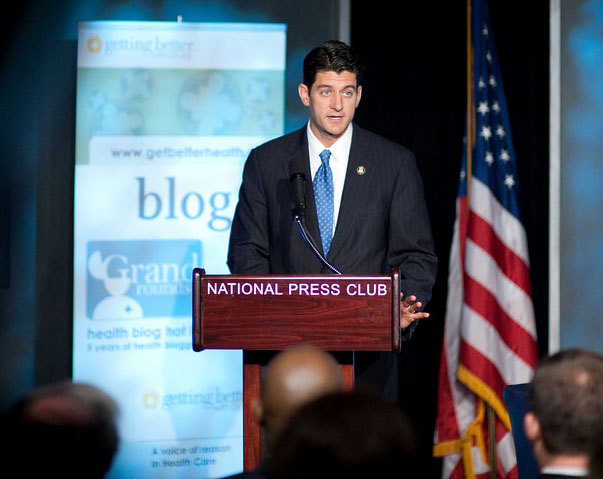 By Stephen Dinan-The Washington Times
Moments after President Obama concludes his State of the Union address from the imposing podium of the House of Representativeson Tuesday night, Rep. Paul D. Ryan will deliver the GOP's answering speech from the House Budget Committee's hearing room, across the street in one of the House office buildings.
The message, congressional aides said, is clear: Whatever Mr. Obama's words, Congress is where the real work on cutting spending will be done.
Going head-to-head with the president is the latest elevation in profile for Mr. Ryan, the new chairman of the House Budget Committee, whom one colleague dubbed "the pre-eminent voice of fiscal sanity in our nation today."
Tuesday's speech will mark the first time in Mr. Obama's tenure that he will speak to a Congress where one chamber is controlled by Republicans — and it underscores the different challenge he will face this year, after voters, worried about runaway spending, powered theGOP to huge gains in November.
Mr. Obama, in a video message to supporters over the weekend, said he'll talk about both deficits and the need to boost jobs — and theWall Street Journal reported he will call for increased spending in some areas, such as education and infrastructure.
Mr. Ryan is likely to provide a stark contrast in his response.
Rep. Jeb Hensarling, who called Mr. Ryan the country's top voice on budget matters, said the congressman from Wisconsin has the smarts to talk about specifics on the budget and, with three young children, also can speak to the obligation to clean up the mess rather than pass it on to other generations.
"A guy who's got small children thinks a lot about this — and it's not just rhetoric. Paul Ryan's bringing solutions," said Mr. Hensarling, the Texas Republican who was Mr. Ryan's right-hand man on the Budget Committee and is now chairman of the House Republican Conference.
To read more, visit: http://www.washingtontimes.com/news/2011/jan/23/ryans-star-rising-with-obama-rebuttal/