Santorum defiant as Romney eyes strong showing in next primary round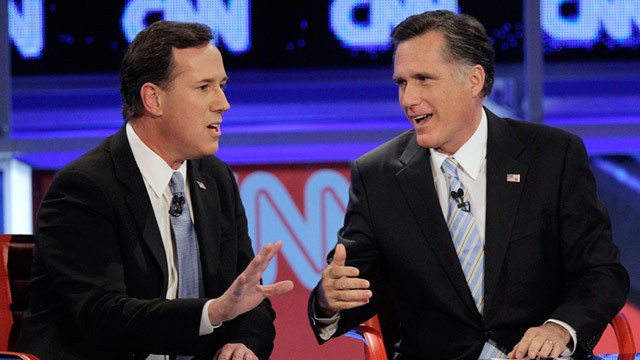 Republican front-runner Mitt Romney is looking for a sweep in three Republican primaries on Tuesday, hoping to tighten his grasp in the contest to decide who will challenge President Obama in the November general election.
However, his main rival Rick Santorum, who is facing long odds in the next set of primaries and beyond, urged Republican voters Monday to help him battle Romney all the way to the convention if that's what it takes to "get the best candidate."
The former Pennsylvania senator was defiant, as party elders put not-so-subtle pressure on him to bow out.
Though polls show Romney poised for another strong showing in the upcoming contests — in Wisconsin, Maryland and the District of Columbia on Tuesday — Santorum vowed to carry on regardless of the outcome. Speaking to reporters in Wisconsin, he said: "The longer it goes the better it is for the party."
Santorum further claimed it would be "positive" for the GOP to battle it out at the Tampa convention, just two months before the general election. "I think it would be a fascinating display of open democracy, and I think it would be an energizing thing for our party," Santorum said.
However, Romney is talking more and more like the nominee, as he closes in on the 1,144 delegates needed to clinch the nomination.
To read more, visit:Â http://www.foxnews.com/politics/2012/04/02/romney-to-cross-delegate-halfway-mark-as-pressure-builds-on-rivals/?test=latestnews