Santorum Predicts a Two-Man GOP Race With Romney After Southern Primaries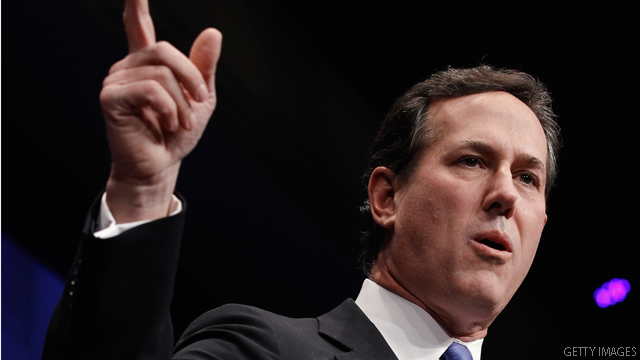 By Lisa Lerer , Bloomberg News
Rick Santorum suggested the Republican presidential primary would soon become a two-man race where he will measure up well to front-runner Mitt Romney.
"Hopefully after this Tuesday, this will be a two-person race, and we can get down to business of deciding whether we want a conservative or a moderate to go up against Barack Obama," Santorum said in an interview on Bloomberg Television's "Political Capital with Al Hunt" airing this weekend.
Santorum, 53, said he expects to win tomorrow's Kansas caucuses and finish first or second in the March 13 primaries in Alabama and Mississippi, which would set up a head-to-head race against Romney.
Though he shied away from directly calling on rival Newt Gingrich to drop out of the race, Santorum cited the former U.S. House speaker's defeats in recent primaries as a sign that his opponent is losing momentum in the race.
Gingrich, who won two primaries — in South Carolina on Jan. 21 and in his home state of Georgia on March 6 — has "finished third or fourth everywhere else, which has been a consistent pattern," said Santorum. "So we feel pretty good that it's now narrowing to a two-person race."
Top Santorum advisers have called for Gingrich to exit the race and let the former Pennsylvania senator consolidate the support of anti-Romney voters.
'Timid' on Economy
Speaking from the USS Alabama, Santorum dismissed Romney's economic plans as "timid," saying his proposals would make deeper cuts in taxes and government spending.
To read more, visit:Â http://www.businessweek.com/news/2012-03-09/santorum-predicts-a-two-man-gop-race-with-romney-after-southern-primaries