Santorum: Willing to 'throw the bombs that are needing to be thrown'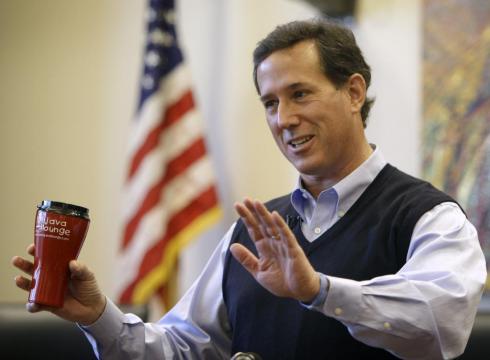 By Stephen Dinan-The Washington Times
MUSCATINE, Iowa — Fighting back against the charge that he's too conservative to be the Republican presidential nominee, former Sen. Rick Santorum said Thursday that he's just throwing the bombs others haven't been willing to throw.
Mr. Santorum, the only candidate competing in Iowa's caucuses who has never led in the polls, is suddenly surging here, according to the latest surveys and the crowds turning out in ever bigger numbers to hear him speak.
He has one message for them: to ignore the pundits and polls, test the candidates and decide for themselves what they want to see in a nominee.
"We can't afford a president who's going to be just a little better than the president who's in there right now," Mr. Santorum said. "Don't settle for what won't work. Don't settle for winning a Pyrrhic victory. Fight for the contrast. Fight for the mandate."
There's no doubt Mr. Santorum is getting a better look from voters. What pundits want to know is whether there's enough time before Tuesday's caucuses here for him to capitalize on that, and what voters ask him repeatedly at stop after stop is whether he can sustain this surge better than previous claimants to the conservative mantle such as Rep. Michele Bachmann of Minnesota and Texas Gov. Rick Perry, who both stumbled along the way.
To read more, visit: Â http://www.washingtontimes.com/news/2011/dec/29/santorum-willing-throw-bombs-are-needing-be-thrown/