Santorum wins Southern double-header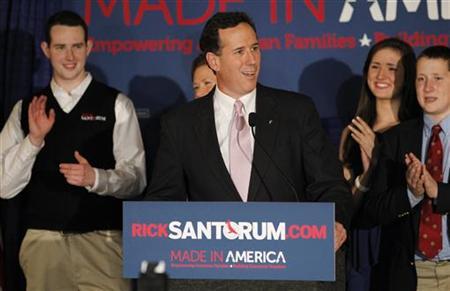 (Reuters) – Republican Rick Santorum won a pair of crucial Deep South primaries on Tuesday, staking a claim to leadership of the party's conservative wing and dealing a severe setback to presidential rival Newt Gingrich.
Television networks projected Santorum would narrowly defeat Gingrich and Mitt Romney in tight three-way battles that shook up a volatile Republican presidential race that has already seen a series of shifts and stumbles.
The losses were a severe blow to Gingrich, who represented Georgia in Congress and desperately needed a win in one of the Deep South states to validate his southern-based comeback strategy and keep his struggling campaign afloat.
Pressure will now mount on Gingrich, a former House of Representatives speaker, to drop out so Santorum can consolidate conservatives in challenging front-runner Romney.
"We did it again," Santorum, who was heavily outspent by Romney in the two states, told supporters at a victory rally in Lafayette, Louisiana, the next southern state with a primary, on March 24.
"We will compete everywhere," said Santorum, a former Pennsylvania senator. "The time is now for conservatives to pull together. If we nominate a conservative we will beat Barack Obama."
To read more, visit:Â http://www.reuters.com/article/2012/03/14/us-usa-campaign-idUSTRE8230GE20120314