Sarah Palin Target of Left in Arizona Massacre Aftermath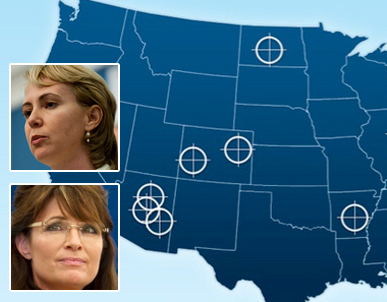 By Howard Kurtz, The Daily Beast
Already, people are pointing fingers at Sarah Palin and her "target map" for fostering the tragedy in Arizona—but Howard Kurtz says military terminology has been part of politics for ages.
I hate to say this, but the blame game is already under way.
It began within hours of Saturday's horrifying shooting of Arizona Congresswoman Gabrielle Giffords and nearly 20 others, even before the gunman was identified.
One of the first to be dragged into this sickening ritual of guilt by association: Sarah Palin. Last March, the former Alaska governor posted a map on her Facebook page with crosshair targets representing 20 Democratic lawmakers she was singling out for defeat after they voted for President Obama's health care plan. One of them was Giffords. Palin, who touts her caribou-hunting heritage, also tweeted, "Don't retreat, RELOAD!"
This kind of rhetoric is highly unfortunate. The use of the crosshairs was dumb. But it's a long stretch from such excessive language and symbols to holding a public official accountable for a murderer who opens fire on a political gathering and kills a half-dozen people, including a 9-year-old girl.
On her Facebook page, Palin offered her "sincere condolences" to Giffords and the others who were shot, saying that "on behalf of Todd and my family, we all pray for the victims and their families, and for peace and justice."
To read more, visit: Sarah Palin Target of Left in Arizona Massacre Aftermath