Schumer Caught On Hot Mic Basking In Trump Adulation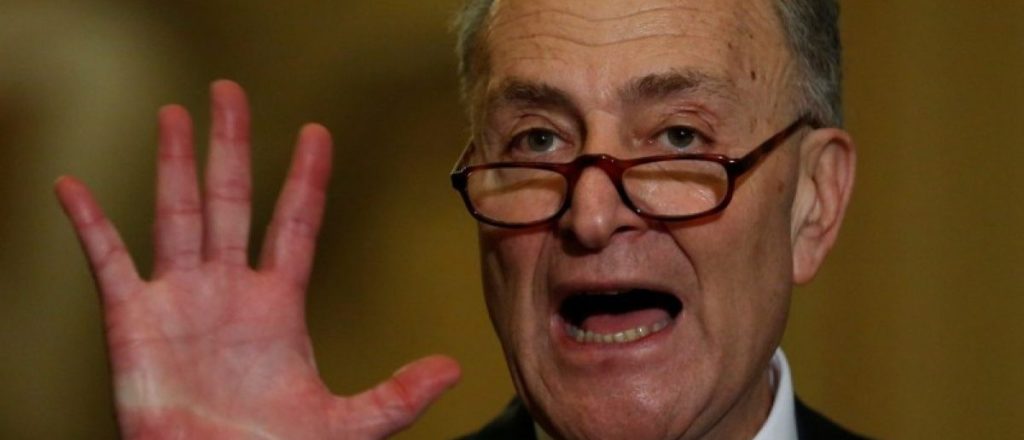 Senate Minority Leader Chuck Schumer (D-N.Y.) took to the Senate floor Thursday morning to discuss Equifax's massive security breach; the physical limitations of a border wall; and his supposed agreement with President Trump, struck alongside his House counterpart Rep. Nancy Pelosi (D-Calif.), to work to preserve protections for immigrants who were brought to the U.S. illegally as children.
But before he officially took to the floor, Schumer bounded into the Senate chamber just after a speech by Senate Majority Leader Mitch McConnell (R-Ky.) and took a minute to converse with a colleague. "Sorry, just got here. Anything new?" Schumer can be heard saying on C-SPAN2's live feed of the Senate, though he's not seen on video. Then: "He likes us! He likes me, anyway," Schumer says with a chuckle.
Schumer is presumably referring to himself and Pelosi, and Trump's apparent affection for them — or one of them, anyway. He continues telling his unseen colleague that the statement he and Pelosi put out about Trump's DACA promise was "exactly accurate." "Here's what I told him," Schumer continues. "I said: 'Mr. President, you're much better off if you can sometimes step right and sometimes step left. If you have to step just in one direction, you're boxed.' He gets that."