Scott Walker tells Iowa crowd he'll return 'many more times' at GOP summit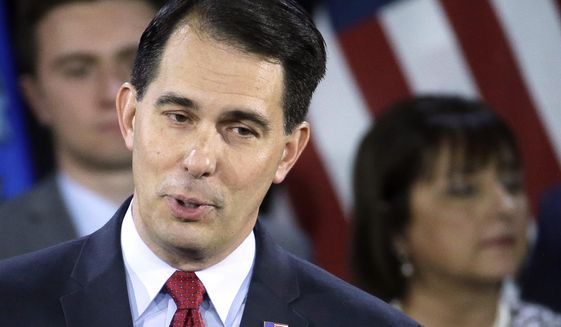 Gov. Scott Walker of Wisconsin cast himself Saturday as a conservative warrior who has overcome death threats, and big government special interest groups, to pass "commonsense conservative reforms" that has bettered the lives of the people living in his state.
Fresh off his third successful campaign in four years, Mr. Walker said his electoral wins send a clear message to Republican across the country that voters will reward conservative leaders.
"We weren't afraid to go big and to go bold, not only for my sons, but for their generation and for countless generation yet to be born," Mr Walker said. "Maybe that is why I have won the race for governor three times in the last four years. Three times, mind you, in a state that hasn't gone Republican for president since I was in high school 30 years go. How about that?"