Sebelius has awkward on-air exchange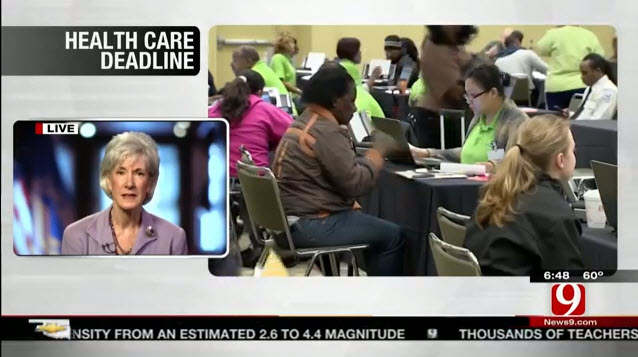 Health and Human Services Secretary Kathleen Sebelius declined to respond to a TV reporter in Oklahoma on Monday, who told her people in his state weren't signing up for ObamaCare because they don't like it.
"At last check, 64 percent of Oklahomans aren't buying into the healthcare plan; they don't like ObamaCare, and they've been pretty vocal about it," the reporter said. "Now that's going to be … a tough sell, but we'll see how that plays out over the coming months."
The reporter didn't ask a question, and Sebelius didn't respond to the criticism, leading to several moments of dead air during the interview. The reporter assumed Sebelius lost the audio connection.
"I can hear you," Sebelius said. "But I — thanks for having me."
Top administration officials are blanketing the airwaves Monday in an effort to enroll as many people as possible before the midnight deadline to sign up for ObamaCare. The officials are focusing on regional spots with high levels of uninsured and, in many cases, calling in or filming appearances one after another.