Sheriff: Not convinced Arizona shooting suspect acted alone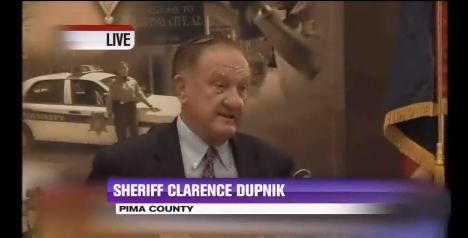 (NECN) – Pima County sheriff Clarence Dupnik says law enforcement is not convinced that the suspected shooter in today's Tucson, Arizona rampage acted alone.
He says a total of 19 people were shot and at least six have been killed at an event with congresswoman Gabrielle Giffords outside a grocery store. The dead include a 9-year-old girl and a federal judge. Giffords was shot in the head and is listed in critical condition.
Dupnik says the suspected shooter may not have been by himself.
"There is some reason to believe that he came to this location with another individual," he said, and confirmed that authorities are still looking for someone else they believe may be connected to the incident. Dupnik says the suspect already in custody is a white 22-year-old male who "has kind of a troubled past, we can tell you that."
The sheriff says that two people tackled the suspect during the shooting, and that they believe congresswoman Giffords was the target.
"She's not about Republicans, she's not about Democrats, all she cares about is the United States of America," he said, and continued, "I think it's time as a country that we need to do a little soul searching."
To read more, visit: http://www.necn.com/01/08/11/Sheriff-Not-convinced-Arizona-shooting-s/landing_newengland.html?blockID=387652&feedID=4207