Signs mount that Huckabee won't enter 2012 race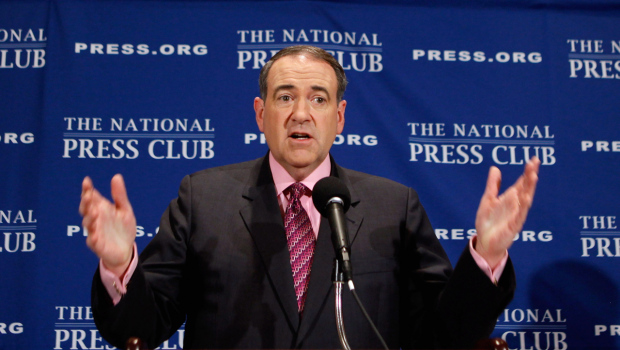 by Brian Montopoli & Robert Hendin, CBS News
Mike Huckabee is running out of time to make up his mind on a 2012 presidential campaign – and the evidence is mounting that he will ultimately forgo another run at the White House.
The former Arkansas governor would enter the race as a formidable contender: Gallup found this week that he is the potential presidential candidate about whom Republicans feel most positively. And a Gallup poll last month found that Huckabee is one of just three Republicans – the other two are Mitt Romney and Sarah Palin – who have double-digit support from GOP primary voters.
One might think that Huckabee, who says he will announce a decision over the summer, would look at these numbers and conclude that he should jump headfirst into the race. But while he's openly discussing a possible run, he's sending decidedly mixed signals.
For starters: While Romney, Tim Pawlenty and other likely candidates snap up key staffers ahead of announcing their runs, Huckabee has stayed on the sidelines even as his former staffers sign on with other candidates. Chip Salzman, Huckabee's campaign manager in 2008, is now chief of staff for freshman Rep. Chuck Fleischmann (R-Tenn.), though he says he could jump ship for a Huckabee run. Cliff Hurst, Huckabee's New Hampshire co-chair, has signed on with Pawlenty; so did one of Huckabee's top operatives in Iowa in 2008, Eric Wollson. Prominent New Hampshire Republican Ruth Griffin, a high-profile Huckabee supporter in the last cycle, has come out publicly for Romney.
A New Hampshire Republican tells CBS News that "no one has heard" from Huckabee in the key early voting state. While Pawlenty, Romney, Newt Gingrich and even Rudy Giuliani are making trips to the state ahead of a potential run, Huckabee has been conspicuously absent.
And then there's the fact that Huckabee is building a $3 million beach house in Santa Rosa Beach in Florida and has registered to vote there. The decision to move his residence there – away from Arkansas income taxes – fueled speculation that Huckabee is happy with his media gigs and the money they bring. (He also may need to keep that money coming in to pay the mortgage, which the Arkansas Times says totaled $2.8 million.) He makes $500,000 per year from his gig hosting a show on Fox News and also generates earnings from his radio show and book sales; he has acknowledged that "if I run, I walk away from a pretty good income."
To read more, visit: Â http://www.cbsnews.com/8301-503544_162-20044329-503544.html