'Specific info' forces WikiLeaks to move anticipated announcement to Berlin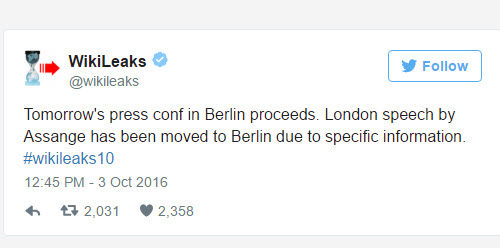 Julian Assange canceled a dramatic London balcony address on Tuesday in favor of a video presentation in Berlin after WikiLeaks developed "specific information" regarding Assange's safety, the leaked emails clearinghouse tweeted on Monday afternoon.
Some believe the video announcement by the WikiLeaks founder could be an "October surprise" geared towards the U.S. presidential election. Supporters of GOP presidential candidate Donald Trump have said they believe the announcement will be damaging to the candidacy of Democratic rival Hillary Clinton.
Assange, 45, who has lived in the Ecuadorean Embassy in London for five years as officials in Sweden have sought him on criminal charges, is set to address supporters in Berlin via a video link at 3 a.m. ET.