Super Tuesday: Will Romney be able to seal the deal?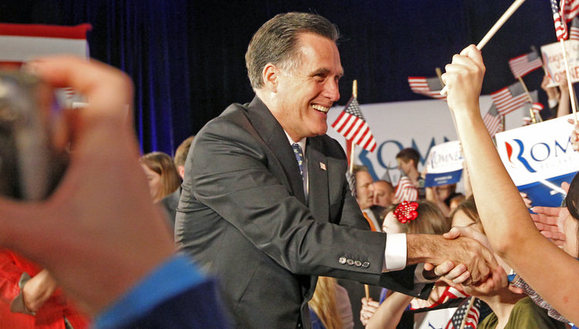 By Susan Page, USA TODAY
10 states.
4 candidates.
And 1 knock-out punch?
Probably not.
The Super Tuesday contests are headed toward a split decision, but the biggest election night on the Republican presidential calendar will set the course ahead for the nomination to face President Obama in November — and could mark the moment when Mitt Romney finally emerges as the GOP's all-but-inevitable choice.
For the former Massachusetts governor, a victory in the Ohio primary and a show of strength across the country would enable him to argue that he is the only contender with a realistic mathematical chance of claiming the 1,144 delegates needed for nomination. That's a case his campaign is poised to make Wednesday morning.
Ron Paul addresses supporters in Fairbanks, Alaska, on Sunday.
For former Pennsylvania senator Rick Santorum, winning in Ohio as well as the Sun Belt would weaken Romney's argument and demonstrate the resilient appeal of the social conservative champion against his opponent's superior organization and money.
For former House speaker Newt Gingrich, a victory in his home state of Georgia is necessary if he is to stay a viable candidate, and rivals say he needs to score elsewhere, too. And for Texas Rep. Ron Paul, winning any state, most likely the North Dakota or Alaska caucuses, would provide bragging rights as well as delegates.
"They're pretty high stakes," says former Republican national chairman Ed Gillespie, who isn't affiliated with a campaign. Many in the party are ready to move past this fight and on to the next one, he says. "Republicans have reached a point where they're largely tired of Republican-on-Republican violence and are eager for a point at which a Republican nominee is making the case against President Obama rather than amplifying pretty minor differences between ourselves."
As the four candidates campaigned Monday from Alcoa, Tenn., to Zanesville, Ohio, statewide polls show Romney and Santorum tied in Ohio and Romney narrowing the gap in Tennessee — Tuesday's most critical battlegrounds.
Super Tuesday isn't as dominant as it was four years ago, when two dozen states held contests on Feb. 5, 2008. Then, a strong showing by Arizona Sen. John McCain essentially settled the Republican race, which had many winner-take-all contests. An almost even split between Barack Obama and Hillary Clinton fueled a long battle on the Democratic side, where party rules required proportional distribution of delegates.
Republican National Chairman Reince Priebus cites that Democratic example in dismissing angst about whether the GOP's prospects for winning the White House are being damaged. "The process on the Democrats' side went on until June and in the end they ended up doing pretty well," he says. "We are in the second or third inning of a nine-inning game."
The idea of grouping primaries on one high-stakes day was launched in 1988 by Southern Democrats who figured a regional primary would increase the odds the party would choose a moderate candidate rather than a liberal one. (It didn't work that year, when Massachusetts Gov. Michael Dukakis won the nomination, though in 1992 a Southern-flavored Super Tuesday did boost Arkansas Gov. Bill Clinton.)
This season's busiest election day includes contests in the Northeast, Midwest and West as well as the South. It has become a sort of national primary that has Romney fighting on all fronts as his three opponents pick where to make a stand.
"This year, it's not really big and not concentrated in one particular set of states," says political scientist John Green of the University of Akron. "The other way an event like Super Tuesday can have an impact is where it falls in the primary process. The process up to this point has been so volatile. … From that perspective Super Tuesday is poised to determine whether the campaign starts winding down or accelerates."
To read more,visit:Â http://www.usatoday.com/news/politics/story/2012-03-05/super-tuesday-republicans/53374902/1