Tea Party favorite blasts McCain for 'hobbit' rebuke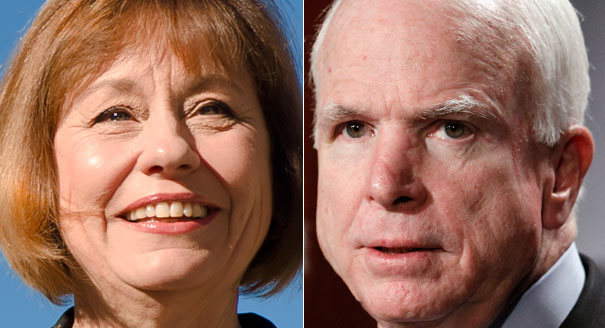 One of the Senate nominees singled out by GOP Sen. John McCain during a stinging speech that compared Tea Party supporters to hobbits is responding this morning with a rebuke of her own.
Sharron Angle, last year's GOP Senate nominee in Nevada, issued a statement blasting McCain, the 2008 Republican presidential nominee, for "name calling" and having "no new ideas of his own" in his remarks yesterday about the debt-ceiling impasse.
"It is regrettable that a man seeking dialogue, action and cooperation for votes on the floor of the United States Senate has only one strategy to achieve that effort: name-calling. Nice," Angle said.
McCain on Wednesday took to the Senate floor to rail about conservatives in the Tea Party movement who have "bizarre" plans and believe a Democratic-controlled Senate can pass a balanced budget amendment before an Aug. 2 deadline to raise the debt limit.
McCain laced his remarks with quotes from a Wall Street Journal article, which referred to the anti-tax movement supporters as "Tea Party hobbits" — the characters in the Lord of the Rings series who inhabit Middle Earth.
He read the part that specifically accused Angle and Christine O'Donnell, the Delaware Senate nominee backed by the Tea Party, for "crack political thinking." McCain didn't reserve his ire for Republicans: he also criticized President Obama and Senate Majority Leader Harry Reid in the same speech.
To read more, visit: Â http://content.usatoday.com/communities/onpolitics/post/2011/07/john-mccain-tea-party-hobbits-sharron-angle-/1