Tea Party "kingmaker" DeMint focuses on Senate races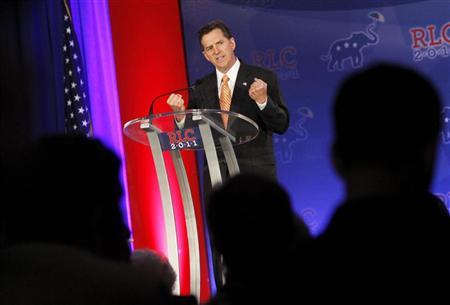 By Nick Carey
(Reuters) – Everybody was waiting for Jim DeMint. Mitt Romney had reason to hope the South Carolina senator would repeat his 2008 endorsement of his presidential bid.
DeMint is the hero of conservatives in South Carolina, so his backing might well have clinched the crucial state for Romney. Newt Gingrich, Rick Santorum and Ron Paul had just as much reason to hope DeMint might support them, and put him in the role of kingmaker in the Republican race for the White House.
At a convention of the conservative Tea Party movement in Myrtle Beach on Sunday, DeMint made clear, however, they could all stop holding their collective breath.
The Republican lawmaker, who had refused to endorse anyone, said he was definitely staying on the sidelines.
"We've got a presidential race coming up and we've got a lot of good candidates," he said.
"I know that probably folks in this room feel strongly about them in a lot of different ways, and that's why I'm not getting involved," he added to laughter from the audience.
The Tea Party – with its calls for reduced government spending and regulation – is the hottest movement within the Republican Party. It helped more than three dozen conservative candidates get elected to Congress in the 2010 elections, helping Republicans regain control of the House of Representatives.
But the Tea Party's impact on the presidential campaign has been relatively muted. There is no consensus Tea Party candidate, because the movement is split among conservatives Gingrich, Santorum and Paul. Republicans are selecting a candidate to challenge Democratic President Barack Obama in the November election.
It is also unclear whether the movement that helped elect candidates from conservative, mostly white congressional districts will have the same appeal in national elections, in which the electorate is more diverse.
So instead of picking a favorite for the White House race, DeMint has a different strategy: to strengthen the Tea Party in the Senate and forge a bastion of fiscal conservatism against whoever wins the presidency.
To read more, visit:Â http://www.reuters.com/article/2012/01/16/us-usa-campaign-demint-idUSTRE80F1T320120116