Tea party leaves streets, hits political suites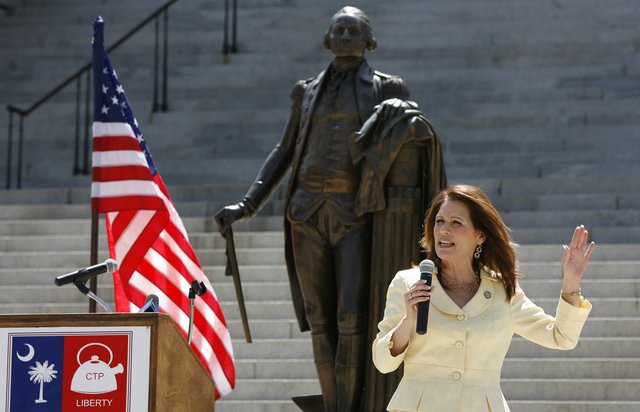 By Ralph Z. Hallow-The Washington Times
The tea party protests and parades were much more modest this Tax Day, reflecting the grass-roots movement's metamorphosis from the mass fist-waving demonstrations of the past two years to something much more precise and targeted — a political "smart" bomb that, for now, shows no signs of becoming a third-party movement.
Tea party activists, many now in office in Washington and state capitals around the country, are quietly targeting politicians and policies responsible for what they say have been decades of fiscal profligacy that threaten American living standards.
"The lack of demonstrations shows the battlefield has moved to the halls of Congress, where the fight is over what to cut, and the focus is purely on lobbying Republicans to keep charging," said Nathan Mintz, Los Angeles County Republican secretary and South Bay Tea Party founder. "The battleground also has moved to the halls of state legislatures. In Wisconsin, the target is the public employees union, as opposed to unfocused outrage."
Many of those fist-wavers from the demonstrations on the National Mall and in town squares across the country were new to politics.
But they have "gone native" in a sense, mixing it up with politicians in the legislative hallways instead of brandishing placards outside. Eavesdropping and hobnobbing with power brokers, they pass insider info like ammunition over the wall to the tea party troops outside.
"We, like many other tea parties in Texas, are concentrating right now on the state Legislature," said Tea Party Patriots Organizer Barbara Bruechner of Mount Pleasant, Texas. "Texas has tea party representatives in Austin monitoring the numerous bills as they move through our state House and Senate and then sharing that info with tea party/grass-roots leadership across the state. That information is then shared with members of individual groups, and alerts are sent out when our elected officials need a little pressure to do the will of the people."
The tea party, with its not-so-secret agenda to take over the GOP and oust the party's so-called "RINOs" ("Republicans in name only"), is changing from a ragtag, rogue regiment of disgruntled Republican foot soldiers to a well-oiled and well-informed fifth column, determined to burrow in and become one of the two major parties.
Here's how Alaska tea patty activist David Eastman explains it: "The movement is busy organizing and entrenching, very much like a new third-party would, and this explains at least partly why there is less of a focus on rallies," he said.
To read more, visit:Â http://www.washingtontimes.com/news/2011/apr/20/tea-party-moves-from-streets-into-political-suites/